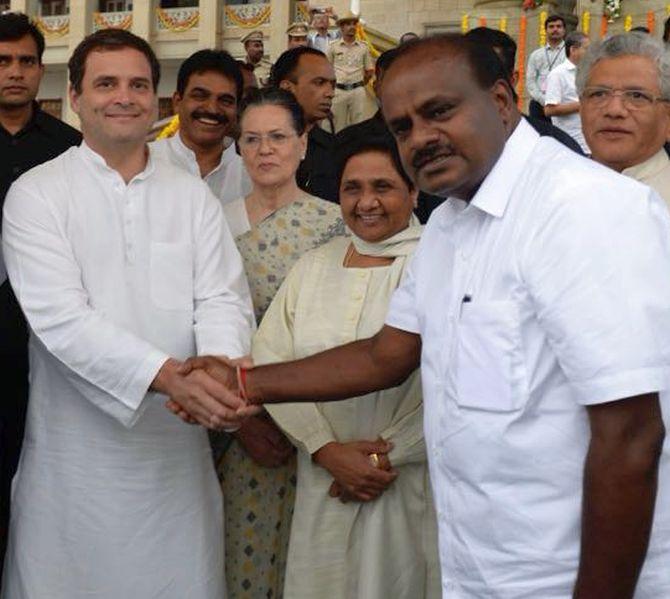 In a blow to the Congress-Janata Dal (Secular) coalition government in Karnataka, the lone Bahujan Samaj Party Minister N Mahesh on Thursday quit his post citing personal reasons, but said he would continue to support the ruling coalition.
His surprise move came days after BSP chief Mayawati announced that her party would not forge an alliance with the Congress 'at any cost' for the assembly polls in Rajasthan and Madhya Pradesh, in a setback to efforts to forge opposition unity.
Speaking to reporters after submitting his resignation to Chief Minister H D Kumaraswamy,Mahesh said he quit to focus more on his assembly constituency Kollegal and to strengthen his party ahead of the Lok Sabha elections.
"There had been a campaign against me in my constituency that I have camped in Bengaluru and was not focusing on Kollegal. Also, there was a need to strengthen the party base ahead of the Lok Sabha elections," said Mahesh.
The BSP leader said he has not yet informed Mayawati about his decision to resign.
"No I have not informed her. I have come before the media. Now I will tell Behenji (Mayawati)," said Mahesh, who is the minister for primary and secondary education.
He said the Chief Minister told him that he would consider his resignation.
Mahesh vowed to continue his support to the coalition government and said he would campaign for the JD-S during the bypolls for three Lok Sabha and two assembly seats in the state on November 3.
"I do not have any grouse against anybody in the government. As a minister I did my best and toured the state. This resignation is purely due to personal reasons," he said.
The BSP had contested the May assembly polls in a tie-up with the JD-S, which in a post-election understanding joined hands with Congress to form the government following a fractured verdict.
Causing ripples in the coalition, Mahesh had also recently hit out at the Congress, the BJP and the JD-S, saying they were responsible for economic and social inequality in the country and projected BSP as the champion for the cause of the oppressed.
"I'm saying this openly, whether it is Congress or BJP or Janata Dal, their workers will not understand the ideology that I'm speaking about.
"They don't need it because until there is this caste system and inequality- Congress, BJP and Janata Dal will continue to exist," Mahesh had said.