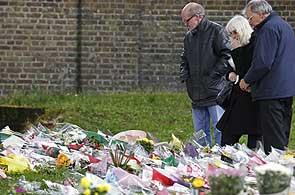 Two Muslim men appeared in court on Monday on charges of brutally hacking to death a British soldier on a London street in May.
Michael Adebolajo, 28, made his first court appearance at Westminster Magistrates' Court in central London since being charged by police for the murder of soldier Drummer Lee Rigby.
Wearing a white T-shirt and white trousers, Adebolajo blew a kiss to a man in the public gallery and they both pointed to the sky.
His left arm was fully bandaged and he held a copy of the Quran.
He said he wished to be known as Mujahid Abu Hamza and initially refused to stand in court.
He asked Deputy Chief Magistrate Emma Arbuthnot, "I would like to alleviate the pain, if I may." He then kissed the Quran and raised his arm into the air.
Adebolajo was remanded in custody to appear at the Old Bailey within 48 hours.
His suspected accomplice, 22-year-old Michael Adebowale, who was remanded by the Westminster court last week, faced the Old Bailey for a bail hearing via video link and was also remanded to custody.
Both suspects, London-based Muslim converts of Nigerian descent, had been shot on the scene of the murder on May 22 by armed police before they were arrested and taken to separate London hospitals.
British Prime Minister David Cameron will be addressing Members of Parliament for the first time since the attack in Woolwich, south-east London.
He will make the first House of Commons statement about the killing as MPs return from their half-term break.
He had cut short an official visit to Paris on the day of the attack to return to the United Kingdom for a meeting of the government's emergency Cobra committee. He later set up the task force which brings together Cabinet ministers, intelligence and police chiefs.
Reporting restrictions are now in place regarding the details of the attack in the run-up to a trial.
An inquest into Rigby's death heard that he was run over by a car before being attacked by two men armed with a cleaver and a knife, on a quiet suburban street in the middle of the afternoon.
British police have arrested 10 other people in connection with the case, including two women who have been released without charge.
Adebolajo, who spent nine days in hospital, has also been charged with the attempted murder of two police officers and possession of a firearm, a 9.4mm KNIL Model 91 revolver.
Adebowale, who spent six days in hospital, also faces the same firearms charge.
An Old Bailey judge will hear a bail application on his behalf ahead of a pre-trial hearing in the case listed for June 28.
Image: An uncle and grandparents of Drummer Lee Rigby weep after laying a wreath and reading messages on floral tributes for the soldier near the scene of his killing | Photograph: Luke MacGregor/Reuters