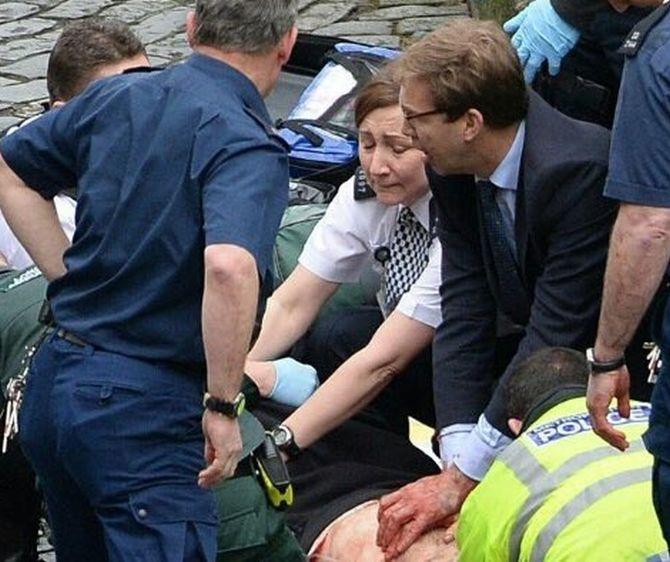 They were asked to take shelter inside as an attacker mowed into a crowd of people on Westminster bridge and then, knife in hand, charged the building's guards.
However, British Foreign Office Minister Tobias Ellwood rushed out to the aid of a stabbed police officer.
The minister, who was formerly a British Army officer, tried to save the man's life but he tragically died after being stabbed outside one of the gates to the Houses of Parliament.
The Tory MP was seen with blood on his mouth and clothes as he tried to stem the blood flow by applying pressure to the wounds.
The former soldier is no stranger to terrorism -- he lost his brother Jonathan, a teacher, in the Bali terrorist bombings in 2002, which killed 202 people, including 88 Australians and 27 Brits.
Speaking just hours after the attack, Ellwood described the incident as a "huge tragedy".
"I am a witness, I was the last one on the scene before he died so I am not allowed to say anything," he told UK tabloid The Sun.
"It is now murder, I was on the scene and as soon as I realised what was going on I headed towards it.
"Im not allowed to say anything, I'll get into trouble.
"It's very sad," he added.
Touched by Ellwood's remarkable story, his fellow MPs and others have praised his "heroic" actions.
Tory MP Stuart Andrew said: "Your natural instinct when you see something as horrific as that is probably to protect yourself.
"I think to actually jump in there and help is quite fantastic of him. Horrible episodes like this really do bring out people who are heroes. He's always been a selfless character. That is his nature."
Image: British Foreign Office Minister Tobias Ellwood gave the cop mouth-to-mouth and administered CPR to the injured cop. Photograph: @_LSGUK/Twitter