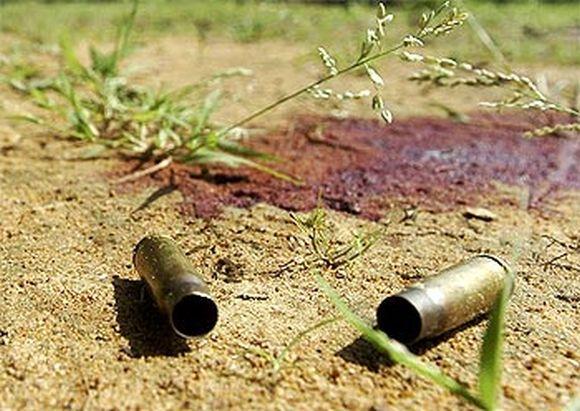 The local intelligence wing had suggested not to carry out large anti-Naxal operations in south Bastar forests, where the ultras recently killed 14 Central Reserve Police Force personnel, citing geographical complications and strong Maoist 'Jantana Sarkar' network, a senior police official said.
The heavily forested, hilly, inaccessible and thinly populated quadrilateral region of Sukma, from Dornapal to Kistaram and Bhejji to Jagargunda on Golappalli plateau, is considered as the battalion headquarters of outlawed CPI(Maoist) in Dandakaranya region.
Spread in about 4,000 sq km area, Golappalli plateau starts nearly 430 km away from the state capital towards south Bastar.
"In the past four-five months, over 300 cadres surrendered in different insurgency-hit areas of Bastar division, but nobody was from this region (south Sukma).
"Except for this area, security forces have almost penetrated into other core areas of Maoists, including Abhujmad during the last three months of intense anti-Naxal operations," a senior police officer involved in the operations told PTI on condition of anonymity.
As per local inputs, the thinly populated Golapalli plateau region is the base camp of Maoist guerrillas and is largely inhabited by their military cadres, he said.
Police informers had tipped off that no response was received from this area to the repeated appeals and requests by security forces to local janmilitia and sangham members (fresh recruits) to lay down their arms and join the mainstream.
Village heads of nearby region had failed to persuade them to surrender, unlike in other Bastar areas, he said.
The informers pointed out that tribals still have more faith and confidence in 'Jantana Sarkar' (people's government) of the banned outfit in South Sukma region where people are devoid of basic amenities and development works because of the dreaded Maoist activities, the official said.
"Geographical complications, weak intelligence gathering mechanism and several other strategic factors were cited by local police intelligence wing for not carrying out operations at a large scale in the area," he said.
"Keeping in view all these things, we had decided to gradually move inside the area while winning the heart and confidence of the people. Central Reserve Police Force was very much informed about every situation, but how the incident (Kalapada ambush) happened is needed to be thoroughly investigated," the police official said.
A CRPF official, who declined to come on record, said it would be early to arrive at a conclusion as to how the ambush took place on December 1 in Chhattisgarh.
"There are as many as 16 CRPF camps at various restive locations of Sukma under Sukma, Dornapal, Konta, Jagargunda, Behjji and Chintagufa police station limits. We had been conducting operations from time-to-time in these areas.
"The recent operation (when security forces were targeted on December 1) was underway for last 15 days, but unfortunately only on the last day the ambush happened, it's assessment is being done," he said.
Meanwhile, a Raipur-based defence expert said security forces need to capture Golappalli plateau forests to control Naxal activities in northern and central part of Bastar, as the region acts as a passage junction for inter-state movement of the ultras.
"South Sukma forests has been an ideal passage for Naxals from last three decades to move across Andhra Pradesh, Odisha and Maharashtra through Chhattisgarh. They have also set up their base camp here as it is easy for senior Naxal leaders from Andhra Pradesh (now Telangana) to operate their military cadres from the region," said Professor Girish Kant Pandey, Head, Department of Defence Studies at Government Science College herein Raipur.
Stressing on the importance of intelligence inputs in guerrilla warfare, Pandey said security forces have to go for technology, continuous research and extra precautions while cordoning of Dandakaranya forests, ideal for the Naxals' hit-and-run guerrilla war tactics to save themselves from damage.