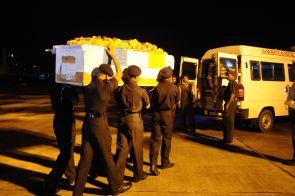 Naik Kundalik Mane, one of the five soldiers killed in Pakistan army's attack along the Line of Control on Monday night, was cremated with full state honours in his native village Pimpalgaon Khurd in Maharashtra's Kolhapur district on Thursday. However, a political controversy erupted soon after as Nationalist Congress Party condemned the statement of Bharatiya Janata Party's leader Gopinath Munde.
Mane's body was brought from New Delhi to Pune late on Wednesday night before being taken to TA Battalion at Temblai Hill, and then to Kolhapur by road. Army and Air Force officers paid tribute to Mane at Pune's Lohegaon air base.
At Kolhapur, various political leaders, including Maharashtra Home Minister R R Patil, Guardian Minister of Kolhapur Harshvardhan Patil and BJP Vice President Gopinath Munde offered their tributes to the martyr. People in thousands turned out to pay the last respect to the 'son of the soil' who shed his life for his country.
Speaking at the occasion, Munde said that Naik Mane was martyred in a terrorist attack. In a statement released by NCP's media cell, Nawab Malik, chief spokesperson Maharashtra NCP, condemned Munde's remarks and said that while BJP disrupted Parliament for two days over this issue, one of the BJP leader is saying again the same thing.
The NCP also objected to the absence of Chief Minister Prithviraj Chavan at the cremation. "While the protocol was followed, the CM should have attended the cremation as a moral obligation to respect the martyr," the statement noted.
Naik Mane, 36, belonged to the Maratha Light Infantry. He has two children. He had joined the army in 1998 and was at Chakkadabad chowky in Poonch district of Jammu and Kashmir.
Image: Martyr Naik Mane's coffin arrives in Pune on Wednesday