A man carries his daughter as he wades through a flooded road after heavy rains in Lahore. Photograph: Mohsin Raza/Reuters
Over 200 people were killed and nearly 400 injured in floods and rain-related incidents in Pakistan, mainly in Punjab province, with four days of torrential downpour leaving a trail of death and devastation.
The showers which started last week continued through the weekend in Punjab and Pakistan-occupied Kashmir, leading to floods in Chenab river inundating Gujrat, Gujranwala and Sialkot districts.
Hundreds of villages in Punjab were submerged while thousands of people were marooned in Gujranwala and Sialkot regions. Standing crop over hundreds and thousands of acres was destroyed while a large number of livestock were washed away.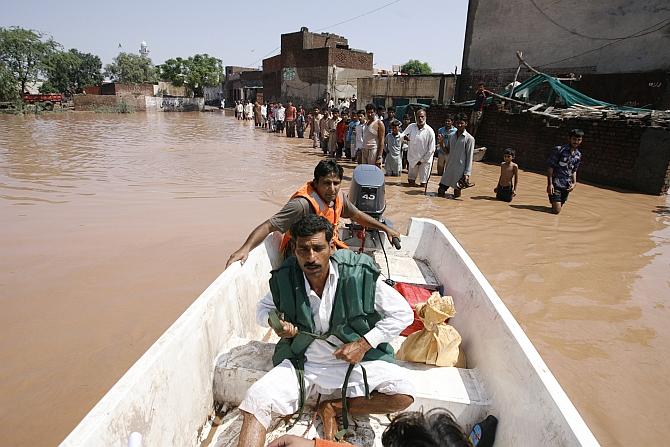 A rescue worker steers a a boat as flood victims wait for their turn in floodwaters, caused by heavy rain, to be transported to dry ground in Wazirabad, located in Gujranwala. Photograph: Mani Rana/Reuters
According to the National Disaster Management Authority, 130 people have died in Punjab, 64 in PoK and 10 in northern areas.
Floods triggered by heavy monsoon rains affected large swathes of fertile land in Pakistan's largest province of Punjab, as authorities were struggling to contain the losses and rescue stranded people.
The Khanki, Marala and Qadirabad barrages were inundated by floods in the Chenab and risk being breached. The floods were also threatening the city of Hafizabad.
Pakistani woman Mumtaz Bibi stands in her partially-destroyed house following heavy rain in Lahore. Photograph: Mohsin Raza/Reuters
According to the Flood Forecasting Bureau, a peak of 675,000 cusecs would cross at Trimmu between September 9 and 10 warning of a disaster in areas around river Chenab because the design capacity of the barrage there is 600,000 cusecs.
The deluge has so far affected 556 villages, mostly in Gujranwala and Sialkot, where thousands of people were trapped and houses submerged with livestock washed away, the NDMA said.
A man helps his wife to remove water from their home which flooded due to heavy rain in Lahore. Photograph: Sara Farid/Reuters
Sialkot, Wazirabad, Hafizabad, Gujrat, Mandi Bahauddin, Chiniot, Jalalpur Jattan, Phalia, Jhang and Pindi Bhattian were directly hit by the flood which also damaged a number of roads, bridges and important installations.
The Punjab government has declared 'flood emergency' in the province.