Booking profit in the recent stock market uptrend, state-run insurance giant LIC offloaded shares worth over $1 billion in half of the 30 Sensex companies, including in RIL and ICICI Bank, in last quarter.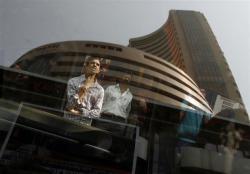 As the markets rallied higher on the back of robust inflows from foreign investors attracted by a slew of economic reform measures, the country's largest institutional investor LIC (Life Insurance Corporation of India) trimmed its holding in as many as 15 Sensex companies in July-September quarter.
The Sensex rose by nearly 9 per cent or about 1,500 points during this three-month period.
As per the latest shareholding data disclosed by Sensex firms, LIC's holding fell the most in companies like Cipla (by about 2 percentage points), ICICI Bank, HDFC Bank, Mahindra & Mahindra and GAIL (about 1 percentage point each).
Besides, the public sector insurer also pruned its stake in HDFC, RIL, L&T, SBI, Tata Motors, Sun Pharma, Maruti Suzuki and Tata Power by about half a percentage point during the quarter.
The total value of shares sold by LIC in these companies is estimated at around Rs 5,850 crore (over $1 billion).
At the same time, LIC's exposure rose in seven Sensex companies - Wipro, Bharti Airtel, Hero MotoCorp, Infosys, TCS, Bajaj Auto and Hindalco Industries.
LIC is estimated to have purchased fresh shares worth about Rs 2,300 crore (Rs 23 billion) in these companies.
Government-run LIC, which pumped around Rs 45,000 crore (Rs 450 billion) in stocks last year, kept its holdings almost unchanged in four blue-chips - ITC, ONGC, BHEL and Hindalco.
The shareholding patterns of two Sensex companies, Jindal Steel and Coal India, do not mention LIC as a shareholder.
Last fiscal, LIC had helped in recapitalisation of a slew of public sector banks, which was of help to the lenders given the weak government finances, and was the major subscriber to shares sold by the government in ONGC in March this year.