Delhi Chief Minister Arvind Kejriwal on Tuesday alleged that Lieutenant Governor V K Saxena suffers from a "feudal mindset" and does not want good education for poor children in the city.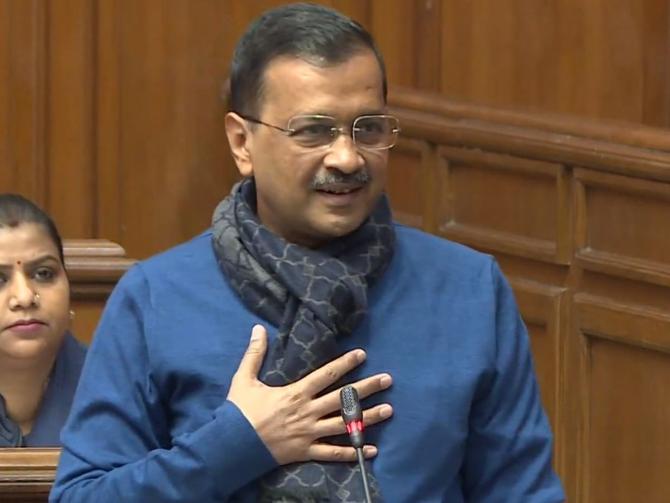 Addressing the Delhi Assembly on the issue of the LG's alleged interference in his government's work, Kejriwal said, "Not even my teachers checked my homework as the LG scrutinises my files."
"The LG is not my headmaster. People have elected me as chief minister," he said.
Kejriwal further claimed the LG told him during a meeting that the Bharatiya Janata Party won 104 seats in the MCD polls because of him and that the saffron party would win all the seven Lok Sabha seats in Delhi in the next general elections.
The chief minister alleged that the LG "suffered from a feudal mindset and doesn't want that the poor children in Delhi get good education".
"Who is LG, where has he come from? He is sitting on our heads. Will he decide where we should send our children to study? Our country is lagging because of such people with a feudal mindset," he claimed.
"Nothing is permanent in life. We may be in power at the Centre tomorrow, with our LG. Our government will not harass people," Kejriwal said.
He said the LG does not have the power to make decisions on his own. "The Supreme Court has clearly said that he cannot take a call on issues barring the police, land and public order." Kejriwal added.
The chief minister also showed a list of "children of BJP MPs, MLAs and ministers who have studied abroad", and said everyone should have access to the best education.
© Copyright 2023 PTI. All rights reserved. Republication or redistribution of PTI content, including by framing or similar means, is expressly prohibited without the prior written consent.