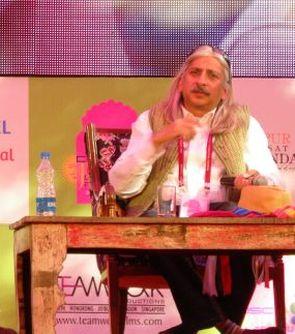 Rediff.com's Sanchari Bhattacharya speaks to Sanjoy Roy about the prominent authors attending the Jaipur Literature Festival this year.
"It is a bumper harvest this year," Jaipur Literature Festival producer Sanjoy Roy told Rediff.com while describing the spectacular line-up of authors at the grand carnival this year.
"I think we have every major award represented this year -- from Nobel Prize to Booker Prize to Pulitzer Prize winners -- I think we have winners of 19 awards represented this year," he said.
When asked which speakers he was personally looking forward to the most, Roy replied with a laugh, "I can't answer that."
When probed further, he said, "We are all looking forward to Professor Amartya Sen, Tash Aw, Jhumpa Lahiri."
On how he managed to get reclusive authors like Lahiri and Jonathan Franzen to the event, Roy said, "We have been trying to get them both for four years. They finally agreed."
Is it true that Lahiri promised to attend the JLF only after she was promised a trip to the RanthamboreNational Park with her children?
"Among other things," said Roy...
When he was asked if it will be a turbulence-free year, after the controversy-riddled last two years, Roy said, "Dekho (Lets' see)"
"Let's hope this year, we don't go to jail," he added.
Speaking on the criminal case filed against him and sociologist Ashis Nandy over the latter's controversial comments regarding the connection between corruption and the backward classes, Roy said, "The case is ongoing. We had non-bailabale warrants issued against us. We have to make an appearance at the court every 10 days or so."
Image: Jaipur Literature Festival producer Sanjoy Roy Photograph: Vaihaysi Pande Daniel/Rediff.com