Senthil Kumar tells Rediff.com's A Ganesh Nadar why he filed a plea in the Supreme Court against V K Sasikala being chosen as Tamil Nadu chief minister.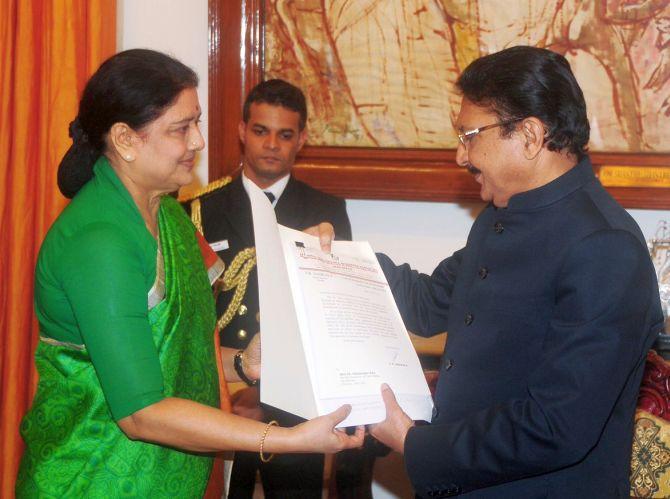 Last week Senthil Kumar moved an urgent petition in the Supreme Court to prevent V K Sasikala from being sworn in Tamil Nadu chief minister, arguing his own case before the court.
The Supreme Court bench declined to listen to him on Friday, February 10, with the words 'Sorry, declined,' and posted the case to February 17.
Senthil Kumar, a resident of Chennai, on Sunday held a meeting of his NGO, Chatta Panchayat Iyakkam, which says it fights for good governance and against corruption in public life, where it decided on a two-pronged attack against Sasikala.
"(Bharatiya Janata Party leader) Subramanian Swamy said he will file a petition to force the governor to appoint a chief minister," Senthil Kumar told Rediff.com
"To prevent this," Senthil Kumar added, "we are filing a caveat in the Supreme Court, asking to be made a party to his petition. So they cannot pass a judgment on his plea without giving us a chance to present our case."
"Even if you stand for panchayat elections you have to declare your wealth and all the criminal cases against you. Sasikala has bypassed this law and wants to become chief minister without showing her wealth or the cases against her," he pointed out.
"We are going to ask the court to make her declare her wealth and all the cases against her. We will publish it for all to know. Let the people know what sort of person wants to become the chief minister."
IMAGE: AIADMK General Secretary V K Sasikala hands over a letter, presumably containing the names of the MLAs who elected her as the legislature party leader, to Tamil Nadu Governor Ch Vidyasagar Rao at Raj Bhavan in Chennai, February 9. Photograph: Kind courtesy @AIADMKOfficial/Twitter