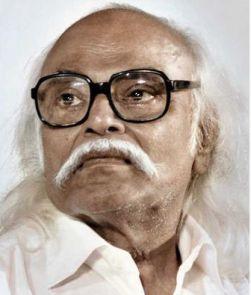 Legendary Tamil writer D Jayakanthan, who charted a new course in Tamil literature with his bold and progressive works, died on Wednesday night following a prolonged illness. He was 81.
Jayakanthan had not been keeping well for quite some time, his son Jayasimhan said.
A prolific writer of novels and short stories, Jayakanthan is survived by his wife, two daughters and son. He has written around 40 novels and 200 short stories and used his pen effectively against social injustices and economic inequality.
His popular novel, Sila Nerangalil Sila Manithargal, which was later made into a film, won him the Sahitya Akademi Award in 1972. He was also a recipient of the Jnanpith Award in 2002.
Born in Manjakuppam in Cuddalore on April 24, 1934, Jayakanthan was a school drop out who moved to Chennai, where he joined the undivided Communist Party of India.
He was associated with communist leaders such as Jeevanandham and Baladandayutham, who encouraged him to take to writing. He started writing for communist magazines.
Jayakanthan, known as JK among his friends, focussed on the marginalised sections in his writing and several of his characters reflect their suffering.
Besides Sila Nerangalil Sila Manithargal, his other novels Oru Nadigai Nadagam Paarkiral and Yaarukkaga Azhudhaan were also adapted into films.
He co-produced Unnai Pol Oruvan, a film on the travails of a poor woman, which was screened in Russia with sub-titles.
The Russian government conferred the Order of Friendship award on him in 2011.
A Padma Bushan awardee, Jayakanthan was also the founder of the Indo-Russian Cultural and Friendship Society. Jayakanthan had also received various other awards,
including Soviet Land Nehru Award in 1978, Raja Rajan Award in 1986 and the Tamil Nadu Government Award in 1986. He was also a Fellow of Sahitya Akademi.
His short stories in weekly magazines such as Ananda Vikatan were a big hit among the readers in the 1960s.
Though he was widely known for having taken up the cause of marginalised sections, he had also written for intellectuals.
Tamil Nadu Progressive Writers and Artists Association deputy general secretary ERA Muthu said it was Jayakanthan who brought recognition and respect to short stories among Tamils after Pudumai Pithan.
"People used to eagerly await his stories in magazines 50 years ago," he said.
Indo-Russian Cultural and Friendship Society secretary Thangappan said that Jayakanthan always showed his courage and conviction through his characters.
He recalled that late Chief Minister MG Ramachandran had called Jayakanthan after watching the film Oru Nadigai Nadagam Parkiral, which was based on his novel, and congratulated him for his brilliant work.
Leaders of Left parties have condoled the death of Jayakanthan.