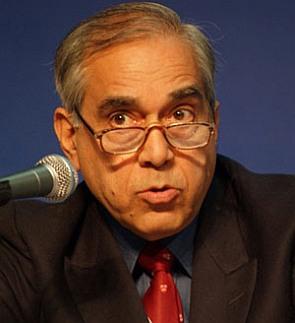 Parliament on Tuesday cleared a Bill to remove legal hurdles that were coming in the way of appointing former Telecom Regulatory Authority of India chief Nripendra Misra as principal secretary to the prime minister amid strong opposition by Congress.
The Telecom Regulatory Authority of India (Amendment) Bill, passed in Lok Sabha on Monday, was approved in Rajya Sabha on Tuesday by voice vote.
Moving the Bill in Upper House, Law and Telecom Minister Ravi Shankar Prasad said it was aimed at removing "a palpable anomaly" as existing law allows a former TRAI chairman to take up private job two years after retirement but bars the person from taking up a government job ever in life.
Other regulatory bodies like competition commission, airports economic regulatory authority and Securities and Exchange Board of India do not have such provision, he said, adding the government decided to amend the law to bring parity among all regulatory bodies.
The Bill was not "individual-specific", Prasad said, adding it was aimed at doing away with the existing anomaly so that capable persons could be utilised after their supeannuation.
"The scope of the bill is very limited and it is to create equality among all regulatory bodies," he said.
Later, replying to questions raised by various members, he said Misra is a man of integrity and the 1967-batch Indian Administrative Service officer has served in various capacities in Centre and the states. He also said the PM should have every right to choose his Principal Secretary for good governance.
The TRAI Bill replaces an ordinance issued on May 28 to amend a clause in the TRAI Act by which Misra could not have been appointed to any government post after retirement.
Misra, who retired in 2009, joined the Prime Minister's Office the same day the ordinance was promulgated and the bill was being brought to give his appointment the requisite legal backing.
T Subbirami Reddy of the Congress had moved a statutory resolution to disapprove the TRAI (amendment) ordinance issued earlier to appoint Misra as the principal secretary to the prime minister, saying the ordinance was like a 'Brahmastra' which should be used rarely by the government.
Congress's Manishankar Aiyar opposed the Bill saying the adoption of the ordinance route for making the amendment was not correct and the Bill violated the Constitution, which Prasad categorically denied.

Image: Former TRAI chief Nripendra Misra