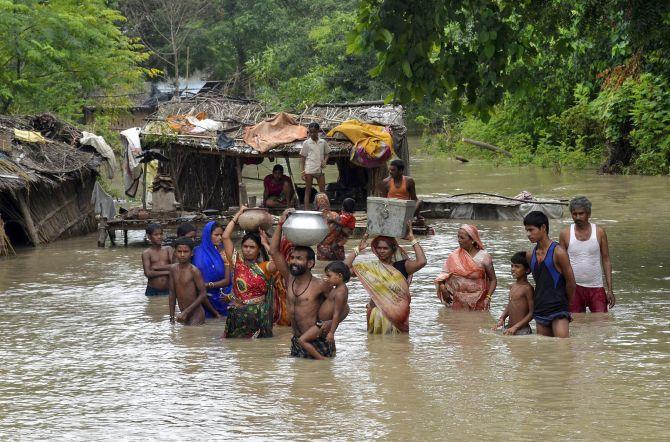 Hungry and desperate for food, over 100 flood victims in Bihar's Nalanda district broke into a government warehouse and looted food grain on Monday to protest inadequate assistance given to them by the government, officials said.

Sunil Kumar, a district official, said hundreds of flood victims forcibly broke open the lock of a godown of the state disaster management department at Sarmera block office in Nalanda in the presence of the police and looted rice and wheat.

He said the food grain looted from the godown was meant for relief distribution among flood victims.
Officials added that the victims looted 80 bags of wheat and over 250 bags of rice.

The desperate flood victims had also staged a protest the block office demanding for adequate relief. Last week, angry as they hadn't received any support from the state, the flood victims had also blocked roads for hours, demanding adequate relief and compensation.
Flood victims in Bihar Sharif, the headquarters of Nalanda district, Aug 29 blocked roads for hours protesting what they called inadequate relief and compensation.

Nalanda is one of the 15 flood-affected districts in the state. More than 1.8 million people have been affected by the floods with major rivers, including the Ganga, Kosi, Gandak and Bagmati, submerging large tracts of land and forcing thousands to be evacuated.
Image: Flood-affected villagers carry their belongings as they navigate through the floodwaters of river Ganges and move to safer grounds, after heavy rains in Patna district. Photograph: Krishna Murari Kishan/Reuters