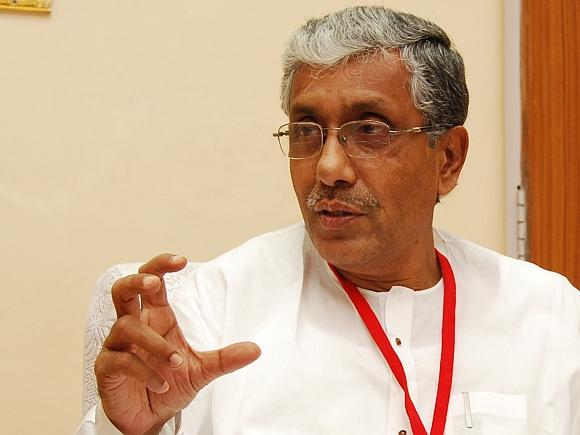 The Communist Party of India-Marxist-led Left Front, which had first assumed power in Tripura in 1978, winning 56 of the 60 seats in the state assembly, never fared so badly in elections in the north-eastern state as it did in this year's polls, the results of which were declared on Saturday.
Nripen Chakrabarty had headed the first LF government in the state in 1978. The Congress had drawn a blank and the Tripura Upajati Juba Samity, a tribal outfit, had managed to bag four seats in 1978.
In the 1983 assembly election, the LF had bagged 39 seats, while the Congress-TUJS alliance captured 20 and the Amra Bangali, a regional party, won the remaining seat. Of the 39 seats won by the LF, the CPI-M alone had bagged 37 while the other two seats fell into the kitty of its ally, the Revolutionary Socialist Party.
The Congress had won 14 and the TUJS six seats in 1983.
The LF was defeated by the Congress-TUJS combine by a slender margin in the 1988 assembly election.
Polling was held in 59 seats in 1988, while it was countermanded in one seat due to the death of the CPI-M candidate.
The Congress had captured 23 and the TUJS seven seats in 1988, while the CPI-M won 29. Subsequently, the Congress-TUJS alliance's tally went up to 31 after the tribal outfit won another seat in a by-election.
In 1993, the LF had wrested power from the Congress-TUJS combine, winning 49 seats. The Congress had managed to win 10 seats and the TUJS only one.
The LF had retained power in the 1998 assembly election, capturing 41 seats. The Congress-TUJS combine had won 19 seats with the former bagging 15 and the latter four.
Manik Sarkar was elected chief minister after the 1998 polls.
In the 2003 assembly polls, the LF had retained power by winning 41 seats. While the Congress had bagged 13 seats, its new ally, the Indigenous People's Party of Tripura, won six seats.
The LF had pulled up an impressive victory in the 2008 assembly election, getting 49 seats, while its opponents -- the Congress and the INPT -- won 10 and one seats respectively.
The LF's tally went up to 50 in the 2013 polls, while the Congress won the remaining 10 seats.
Six Congress MLAs had quit the party and joined the Trinamool Congress in 2016. Subsequently, they had switched over to the Bharatiya Janata Party. Another Congress MLA, Ratan Lal Nath, had also joined the saffron party two months before the 2018 assembly election and was disqualified by the assembly speaker under the anti-defection law.