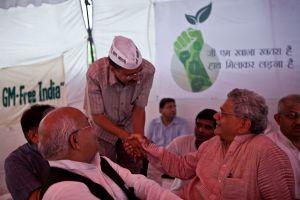 Political leaders cutting across party lines have joined hands with the civil society to launch a nationwide campaign against GM crops and the Biotechnology Regulatory Authority of India Bill.
The Coalition for a GM Free India along with farmer unions, political parties and diverse social and environmental movements launched the campaign at Jantar Mantar Tuesday.
"BRAI Bill is one more example of how the current government continues to sell the nation lock, stock and barrel and pushes us away from Gandhiji's idea of Swaraj," Aam Aadmi Party leader Arvind Kejriwal said.
While CPI-M leader Sitaram Yechury called BRAI another American appeasement law by the Manmohan Singh government, BJP president Rajnath Singh has written a letter in which he expressed his support to the campaign.
The Bill was introduced in Lok Sabha by the Ministry of Science and Technology, despite opposition from within and outside Parliament. It provides a single-window fast track approval mechanism for GM crops, which activists allege are a threat to human health, biodiversity and farm livelihoods.
"Companies like Monsanto decide the fate of farmers and farming in countries like US, and governments tweak their regulations to ensure profits for them. With the BRAI Bill, India's people will no longer be able to decide what they will farm and eat," food policy analyst Devinder Sharma said.
Another activist Nikhil Dey said the Bill not only attempts to negate the powers of the Right to Information Act, but also makes a mockery of public participation in decision making on a technology which impacts everyone in this country.
Image: CPI-M leader Sitaram Yechury and AAP chief Arvind Kejriwal at a demonstration against BRAI Bill at Jantar Mantar
Photograph Courtesy: Greenpeace India