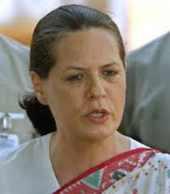 Congress President Sonia Gandhi on Saturday said that India needed to fight communal forces effectively for its economic and social development.
"Economic and social development of the nation should go hand in hand for which we need to fight communal forces strongly," Gandhi said in Narayanpur, West Bengal at a programme in Malda district where Prime Minister Manmohan Singh was also present.
"We are a secular nation and this is our main strength and capital. The Congress party is fully prepared to protect the secular fabric of the country," Gandhi said.
Stating that the United Progressive Alliance government had adopted a slew of measures for minorities and backward classes and to protect the dignity of women, she said programmes such as the Mahatma Gandhi National Rural Employment Guarantee Act, Jawaharlal Nehru National Urban Renewal Mission, Bharat Nirmaan, and providing social security for unorganised sector had also been taken up.
She said that the government would soon pass a legislation for protecting of women against crimes.
"In the budget, the government had announced setting up of an all-women nationalised bank which would extend credit to them with a seed capital of Rs 1000 crore. This shows how much the government is seized with the cause of women in maintaining their dignity. The budget had also sought to set up a Rs 1000-crore Nirbhaya Fund for women for the same reason," she said.
"The UPA government is also looking at the backwards and minorities and steps are being taken to make them self-reliant. The Sachar committee suggestions will be implemented and madrasas will extend special scholarships to women," the Congress leader said.
"The prime minister's 15-point programme for minorities will be upgraded and this is being overlooked by the PM himself," she said.
She said that the proposed Food Security Bill would also be passed soon.
Regarding education, she said that the government was giving special focus to technical education and many technical institutes had been opened across the country. She was speaking at the foundation stone-laying ceremony of the Ghani Khan Choudhury Institute of Engineering and Technology in memory of late A B A Ghani Khan Chowdhury.
Regarding the institute, she said that once it was fully operational, it would benefit the youth of Malda and neighbouring areas immensely in skill development and getting employment opportunities.