'I will get justice at last,' says the feared RJD leader.
M I Khan reports from Patna.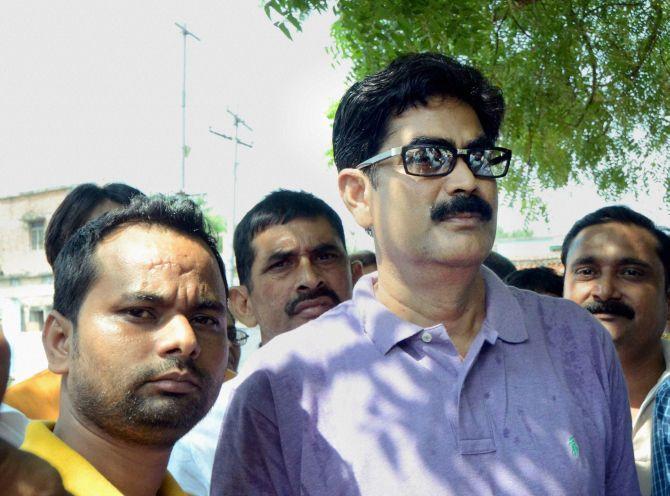 After the Supreme Court on Monday, September 19, sought a response from Rashtriya Janata Dal leader Shahabuddin on a plea challenging the bail granted to him by the Patna high court, the former MP said he is ready to go back to jail if the apex court ordered it.
"I am a law abiding citizen and respect the court order. Earlier, I was sent to jail by the court and ten days ago I was released from jail after the court granted me bail. It is all for the court to decide," Shahabuddin told the media in Siwan.
"I have full faith in the judiciary as I will get justice at last," he said.
He refused to comment on the apex court order which did not grant an interim stay on his bail.
Rejecting the plea to cancel his bail, the Supreme Court said it wants to hear from Shahabuddin and scheduled the next hearing for Monday, September 26.
Justices P C Ghose and Amitava Roy asked the Bihar government to serve notice on the RJD strongman.
Prashant Bhushan, appearing for Siwan-based Chandrakeshwar Prasad whose three sons were killed in two separate incidents, said Shahabuddin is a 'notorious criminal'.
A high alert was sounded in Siwan district on Monday, hours ahead of the Supreme Court hearing.
Security forces were deployed in Siwan after an intelligence report warned of possible trouble if Shahabuddin's bail was cancelled by the apex court.
Security for Chandrakeshwar Prasad and his family and Asha Ranjan, slain journalist Rajdeo Ranjan's wife, was tightened as a precautionary measure.
In his petition, Prasad said Shahabuddin would misuse his liberty to derail the trial in the case. His life was in danger, Prasad added.
The Bihar government also moved the apex court against Shahabuddin's bail and sought the issuance of a non-bailable warrant against him.
Shahabuddin was granted bail on September 7 by the Patna high court in the murder case of Rajiv Roshan, Prasad's son and the sole eyewitness to the horrific murder of his two younger brothers in Siwan.
The RJD leader has been convicted in the twin murder case and the trial in the Roshan murder case is yet to commence.
The Patna high court, in its bail order, considered the fact that the trial in the Roshan murder case could not begin as Shahabuddin was imprisoned in the Bhagalpur prison and enlarged him on bail.
Shahabuddin was released from jail on September 10 after spending 11 years behind bars.