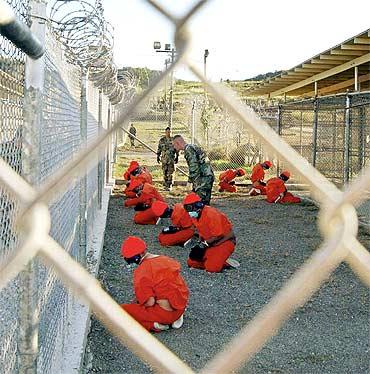 The US has released a London-based Saudi national, the last British resident to be incarcerated in Guantanamo Bay, after nearly 14 years in detention at the infamous military prison in Cuba without being tried for any terror-related offence.
46-year-old Shaker Aamer was held at Guantanamo since 2002 after the US accused him of acting as a recruiter, financier and fighter for Al-Qaeda, as well as being a close associate of Osama Bin Laden, but he was never charged or put on trial.
Aamer, who has four children, on Friday reached the UK. He was board a Gulfstream IV jet which landed at Biggin Hill airport n Kent. No media crew was allowed access to the plane.
He requested a private meeting with his familyand lawyers.
Other UK Guantanamo detainees have received settlements rom the government under terms announced in November 2010.
Although the details have been kept confidential the sums re widely accepted to have amounted to 1 million pounds for ach detainee, including UK residents as well as those with ritish citizenship, meaning Aamer is likely to be eligible or a similar pay-out.
Aamer was detained in Afghanistan in 2001 after US uthorities alleged he had led a unit of Taliban fighters and ad met Osama.
But Aamer, who was twice cleared for release from the camp n 2007 and 2009, denied the allegations and maintained that e was in Afghanistan with his family doing charity work.
He was born in Saudi Arabia, and lived in the US before ettling in Britain, where he married a British woman and, in 996, became a resident.
The release of Aamer comes after a publicity campaign and t the request of Prime Minister David Cameron, who had ppealed to US President Barack Obama to resolve the case of he last Guantanamo prisoner with significant ties to Britain.
Guantanamo was opened by Obama's predecessor after the eptember 11, 2001, attacks on the World Trade Centre.
Andy Worthington, co-director of 'We Stand With Shaker ampaign' said Aamer's lawyer had informed him of the release.
"We hope he won't be detained by the British authorities n his return and gets the psychological and medical care that e needs to be able to resume his life with his family in ondon," said Worthington.
Aamer claims to have suffered sleep deprivation, beatings and humiliation at the hands of American troops while being held at the notorious Bagram Prison north of Kabul.
He was sent to GuantanamoBay in February 2002 where he alleged the maltreatment continued, leading him to become an advocate for prisoners' rights and organised hunger strikes.
He remained on hunger strike as the Obama administration announced last month that he was to be freed.
Rights group Amnesty International, which took up Aamer's cause, called his detention "intolerable".
"We should remember what a terrible travesty of justice this case has been, and that having been held in intolerable circumstances for nearly 14 years Mr Aamer will need to time to readjust to his freedom," Kate Allen, Amnesty International UK director, said.