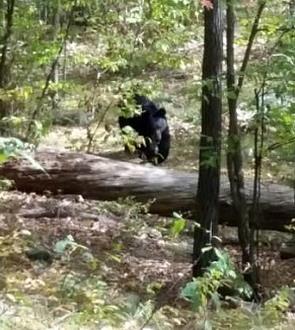 An Indian-origin student, who was killed by a bear while hiking in New Jersey, snapped photos of the 160-kilogram beast before it mauled him to death.
Darsh Patel, a Rutgers University student, was attacked by a black bear at the Apshawa Preserve in West Milford in September.
West Milford police have released six photos taken before the attack, five of them snapped by 22-year-old Patel himself before the bear attacked.
The images show the lumbering male bear approaching a fallen tree about 30 metres away from the group.
Patel had been hiking with four others when they met a man and a woman at the preserve's entrance who told them a bear was on the loose and advised the five friends to turn around, authorities said.
But the group went on, and Patel took photos from a distance of about 100 feet.
After taking snaps, the four men tried to walk away, but the bear started to follow them and came within 5 metres of the group.
That's when they split up and ran away in separate directions, they told police. Four of them later regrouped, noticed that Patel was missing, and called police.
After a two-hour search, Patel's body was discovered as the bear lingered near him.
© Copyright 2020 PTI. All rights reserved. Republication or redistribution of PTI content, including by framing or similar means, is expressly prohibited without the prior written consent.