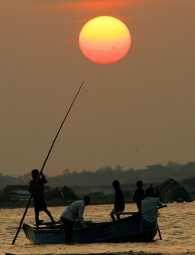 The Sri Lankan navy on Wednesday detained as many as 327 Indian fishermen when they were fishing in the Palk Strait, and later released 227 of them, officials said.
The 100 fishermen in custody have been taken to Trincomallee, Inspector of 'Q' branch of Tamil Nadu police Kennedy and Rameswaram fishermen's association president Emirit said.
The fishermen, hailing from Karaikal, Nagapattinam and Jagathapattinam, had been arrested for allegedly fishing in Lankan territorial waters, officials said.
While Nagapattinam and Jagathapattinam are in Tamil Nadu, Karaikal is part of theUnionTerritory of Puducherry.
Earlier, as many as 227 fishermen from Nagapattinam district in Tamil Nadu were on detained by Lankan Navy personnel when they were fishing in the Palk Strait but later released, fisheries officials said.
The fishermen were taken to Jaffna but they were released after the Indian government held talks with the Lankan government, Pushparaj, Assistant Director of Fisheries, Nagapattinam, told PTI.
Officials said the fishermen would reach India either tonight or on Thursday.
Pushparaj said they could have been arrested for not having a proper fishing token issued by the department and for crossing the International Maritime Boundary line.