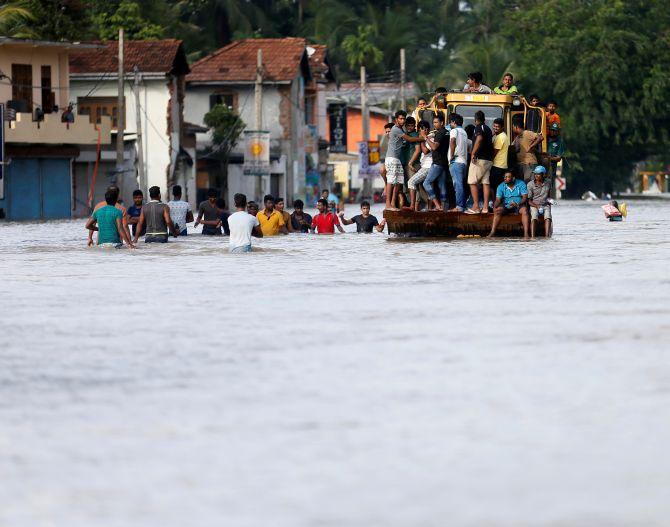 Rescuers pulled out more bodies from the muddy debris of disastrous landslide taking the toll to over 80 while 118 people remained missing on Sunday in floods triggered by the heaviest rains in Sri Lanka in over a quarter century even as relief aid poured in from across the world, including India, for lakhs of displaced people.
The heavy rains have pounded Sri Lanka since last weekend, triggering huge landslides that have buried some victims in up to 50 feet of mud.
Sri Lankan army and other rescuers pulled out 13 more bodies on Saturday night in the worst-hit district of Kegalle.
The Disaster Management Centre said the death toll in the landslide has reached to 82 while 118 people are still missing.
Around 3,40,000 people have been displaced across the country in the floods and landslides, said Pradeep Kodippili, spokesman of the Disaster Management Centre.
The death toll is likely to go up as rescue teams reach some of the worst-hit areas, authorities said.
The national Disaster Management Centre said that 21 of Sri Lanka's 25 districts have been badly affected due to the floods and landslide.
The military said the search for the missing persons is is on in Aranayake where 43 bodies have been pulled out from the debris.
"The sun was out this morning, yet the search operations were not easy," Major General Sudantha Ranasinghe said.
Meanwhile, floodwaters were receding in the capital Colombo and in the Western province's Kelaniya and Kaduwela areas.
International aid began arriving in Sri Lanka, bringing help to lakhs of people driven from their homes by heavy rains and deadly landslides.
Various nations, including India, Pakistan, Australia and Japan are bringing in aid supplies such as blankets, water-purification tablets and drinking water.
An Indian Air Force plane and two naval ships carrying emergency supplies arrived in Colombo on Saturday.
Sri Lanka's military is airdropping food and water to affected areas as rescue operations continue, authorities said.
The United Nations has pledged to support the Sri Lankan government in its efforts to respond to the needs on the ground.
UN Resident Coordinator in Sri Lanka, Una McCauley, on Sunday met President Maithripala Sirisena and discussed flood emergency needs.
"We met President this morning for a briefing on emergency response and coordination. We remain committed to assist all the affected people," a statement by the UN said.
Meanwhile, Sri Lankan police have arrested 16 robbers who had entered the flood-hit homes to loot.
"We will take strong action to arrest anyone buying stolen goods," a police spokesman said.
Image: People travel on a front loader as they drive through a flooded road in Biyagama, Sri Lanka. Photograph: Dinuka Liyanawatte/Reuters