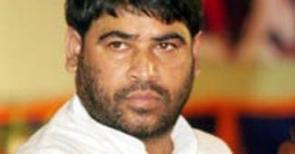 Rashtriya Janata Dal chief Lalu Prasad Yadav's brother-in-law and Bihar Congress leader Anirudh Prasad alias Sadhu Yadav today met Gujarat Chief Minister Narendra Modi at his Gandhinagar office.
"I was attending a family function of my friend at Gandhinagar. So I paid a courtesy visit to Chief Minister Narendra Modi," Sadhu Yadav told PTI.
"During our 40-45 minutes meeting he inquired about old politicians of Bihar and prevailing political situations in the state," said Yadav, who was accompanied by another Bihar Congress leader Dasai Chaudhary at the meeting. Responding to a query, Yadav said, "Yes, he also asked about Lalu Prasad Yadav."
"My meeting was purely a courtesy visit and no political meaning should be derived out of it," he added.
Yadav, along with Dasai Chaudhary and two of Yadav's friends arrived in the city yesterday night to attend a function hosted by Sadhu's friend Vijay Yadav.
Sadhu Yadav, who left Lalu's RJD before last Lok Sabha elections in 2009 to join Congress party, had unsuccessfully contested from Bettiah Lok Sabha seat.
According to sources, on his arrival in Ahmedabad Sadhu Yadav was approached by the CMO and was invited for a meeting over tea.