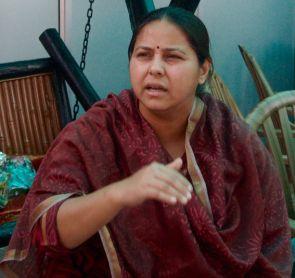 Continuing dynasty politics, Rashtriya Janata Dal Chief Lalu Prasad on Friday nominated his daughter Misa Bharti to the Rajya Sabha, reports M I Khan from Patna.
Rashtriya Janata Dal Chief Lalu Prasad's love for his family in politics is not new. On Friday, he decided to nominate his daughter Misa Bharti along with senior lawyer Ram Jethmalani as party candidates for the biennial polls to the Rajya Sabha next month.
There were speculations that Lalu Prasad will send his wife and former Bihar chief minister Rabri Devi to the Rajya Sabha.
"Misa is young and articulate. She is also a good orator unlike her mother Rabri Devi. That is the reason Lalu has nominated her," a senior party leader said.
The national and state parliamentary boards of the RJD last week authorised Lalu Prasad to select candidates for the RS.
Last year, Lalu inducted his sons -- Tej Pratap Yadav and Tejaswi Yadav -- into politics during the Bihar elections. Now, Tej Pratap is the health minister in the Nitish Kumar government while Tejaswi is the deputy chief minister of the state.
Lalu's wife Rabri Devi, who is MLC, is the leader of the party in Bihar legislative council.
Misa Bharti, a doctor by profession, has been trying to enter politics for several years.
In the 2014 Lok Sabha polls, Lalu fielded Misa Bharti as party nominee to contest from the Patliputra seat in Patna. However, senior party leader and then Rajya Sabha MP Ram Kirpal Yadav had revolted against him.
Later, he joined the Bharatiya Janata Party and contested polls against Misa and defeated her. Ram Kirpal is currently a minister in the Narendra Modi government.
Explaining the reason behind Jethmalani's candidature, another RJD leader said, "Lalu has fovoured Jethmalani for two factors. First, he is a BJP baiter after being expelled from the saffron party in 2013 and second is that he has been helping him in multi-crore fodder scam cases."
With 80 MLAs in the Bihar assembly, two RJD's nominees will get through easily.
RJD's ally Janata Dal-United will nominate two candidates for the polls with 71 MLAs and the BJP will nominate one candidate with 53 MLAs.
The term of five sitting Rajya Sabha MPs from Bihar will expire in July.