Lalitgate is so much like the Bofors arms scandal that eventually brought down the Rajiv Gandhi government despite his humongous parliamentary majority, Trinamool Congress MP Dinesh Trivedi tells Sheela Bhatt/Rediff.com.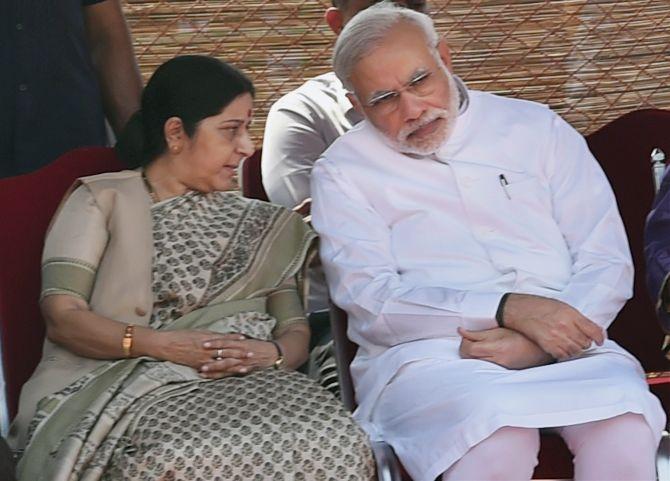 Image: External Affairs Minister Sushma Swaraj with Prime Minister Narendra Modi. Photograph: PTI Photo.
The Lalit Modi episode reminds me of the Bofors scandal of the '80s, both the exposes have lots of similarities," says Dinesh Trivedi, the Trinamool Congress member of Parliament representing Barrackpore in West Bengal.
Talking informally to Rediff.com, Trivedi elaborated on his Bofors analogy. "Like Rajiv Gandhi, Prime Minister Narendra Modi has come to power with a million hopes. Like Rajiv even Modi has been gifted a majority in the Lok Sabha. Rajiv fired the people's imagination with his 'Mr Clean' tag, Modi too has said 'na khaoonga, na khaane doonga'. Both enjoyed the complete trust of the voters. After Rajiv Gandhi became PM, events unfolded fast and eventually sunk his government. He became the PM in October 1985, in March 1986 his government signed a contract with Bofors company for howitzers, and in April 1987 Swedish Radio alleged that Bofors had paid kickbacks to get the contract from his government."
Trivedi's party Trinamool Congress has been going soft on the allegations against External Affairs Minister Sushma Swaraj in Lalitgate, but without commenting on the merits of the case against her, Trivedi spelt out the facts.
He says, "The Bofors scandal broke offshore, it was the Swedish Radio broadcast that shook India. Here (in Lalitgate), too, the Sunday Times of London has hit the ministry of external affairs hard and since then there are news breaks everyday. In the Bofors case it was much the wider arms war that brought out the facts and figures of the howitzer deal with the then government. It is so even in the case of facilitating (Lalit Modi's) travel documents by Sushma.
"Lalitgate, as the media calls it, is actually a poisonous cocktail of the multi-billion Indian Premier League that involves cricket managers of many countries, the pan-India betting mafia which again operates in many countries, Bollywood personalities, the Indian corporate sector which has poured money into making the scam, and the connivance of all parties in New Delhi and in state capitals that has given protection to it so far."
Trivedi says, "When the Bofors scam broke out, Rajiv Gandhi and his advisors remained in denial mode. They reportedly used the government machinery to cover up, and launched a massive effort to cover tracks here and abroad. The Modi government is no different, it is backing the case of Sushma Swaraj and (Rajasthan Chief Minister) Vasundhara Raje which is apparently difficult to defend."
Trivedi says, "The Bofors scam was much smaller when compared to the IPL scam. But see how Rajiv Gandhi's huge Lok Sabha majority could not save him. His own colleagues like V P Singh used the Bofors scam to pin him down, even though there was not an iota of proof against Rajiv Gandhi then. What one has to wait and see now is, is there a V P Singh in this government -- or maybe outside the government?"