A wave of grief swept across the country as the mortal remains of the soldiers who laid down their lives fighting the Chinese Army in Galwan Valley in Ladakh were taken to their native places on Wednesday.
For many of the bereaved families the agonising wait started on Tuesday evening when they were informed by senior Army officials about the sacrifice of the 20 soldiers in the clashes with the Chinese Army along the Line of Actual Control a day earlier.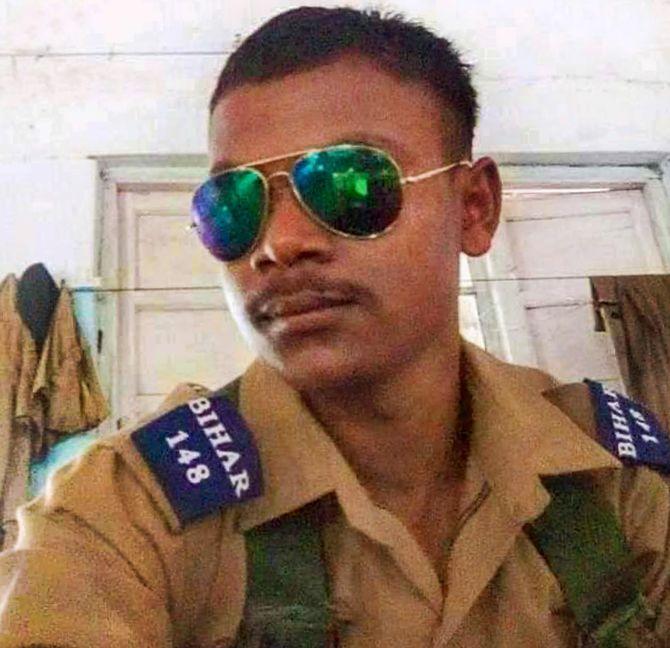 Rajesh Orang's mother was hoping to get him married
Rajesh Orang, who joined the army in 2015, died of injuries suffered in hand to hand combat with the Chinese Army at Galwan Valley in Ladakh region, his father Subhas was informed by authorities.
"My son served the country and gave his life for it," was all Subhas could say on Wednesday morning as he grieved his son's death.
Rajesh's mother Mamata was so overwhelmed by emotions that she could hardly speak.
She was hoping to get him married when he came back on a holiday next.
Subhas said Rajesh, who had two younger sisters, joined the army after passing the higher secondary examination and he belonged to the Bihar Regiment.
He said that he was informed by the army authorities on Tuesday evening about the death of Rajesh, who was in his early 20s.
"From his childhood, my brother wanted to serve the country and was happy to be in the army," his youngest sister Shakuntala said.
"He came home on leave a few months back and talks were on for his marriage," she said.
Subhas, a marginal farmer in Belgoria village in Mohammedbazar police station area in Birbhum district of West Bengal, raised his children amid poverty.
Kundan Kumar Ojha became a father only 17 days ago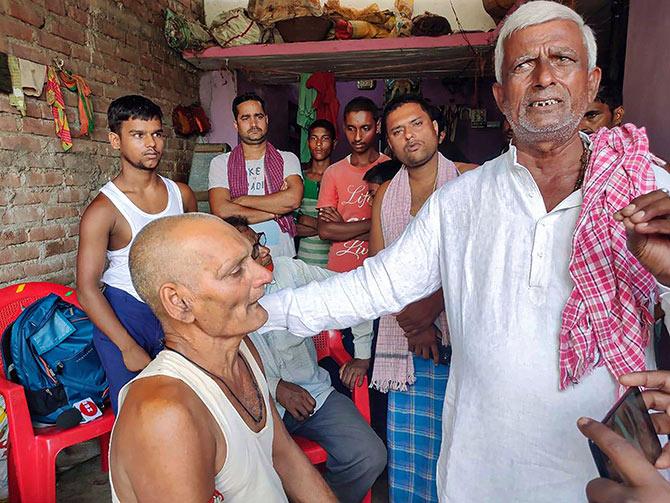 Kundan Kumar Ojha, blessed with a daughter just 17 days ago, had promised his mother over the phone that he would be home as soon as he got leave from duty.
That was the last his family had heard from the 28-year-old soldier.
The second of the four children of farmer Ravi Shankar Ojha and Bhawani Devi from Dihari village in Sahibganj district, he had joined the Army in 2011 in Danapur. The young man had tied the knot a year and a half ago.
"'Abhi to Ladakh mein banni, aur chhuti mili taab betiki dekhe aai' (I am in Ladakh now, will come as soon as I get leave)," were his final few words to Bhawani Devi on June 7, the braveheart's cousin Prabhat Kumar said.
Ojha's parents were too overcome with emotion to even speak.
"He always had that 'junoon' (passion) to join the Indian Army. He used to wake up at 3 am to start his daily exercises as part of his preparations," his cousin said in a choked voice.
Gurbinder Singh got engaged last year
When Sepoy Gurbinder Singh came home last year, he got engaged.
"We had plans for his marriage this year when he was to return home on leave," his uncle Jagseer Singh told PTI.
Now, his body is arriving Thursday at their Totawal village in Sangrur's Sunam tehsil.
The 22-year-old was among the four soldiers from Punjab killed in Galwan clash. The three others were Naib Subedar Satnam Singh (Gurdaspur), Naib Subedar Mandeep Singh (Patiala) and Sepoy Gurtej Singh (Mansa).
"We received a call at 6.30 am today that Gurbinder Singh has attained martyrdom," his elder brother Gurpreet Singh said.
Gurbinder Singh joined the Army in 2018 and was with 3 Punjab Regiment. He is survived by his parents, a brother and a sister. He talked to them on phone about 15 days ago, family members said.
Satnam Singh's brother wants to avenge his death
In Gurdaspur's Bhojraj village, the family of Naib Subedar Satnam Singh, 41, was inconsolable.
He is survived by his father Jagir Singh, mother Jasbir Kaur, wife Jaswinder Kaur, daughter Sandeep Kaur, 17, and son Prabhjot Singh, 16.
He had joined the Army in 1995.
Jagir Singh said his son returned to Ladakh just a month ago.
"He is a great martyr and I am proud of him. He last talked to us on Monday but no one knew that was his last call," said the father.
Satnam Singh's younger brother Sukhchain Singh, who is also in the Army, said if he gets the chance he will avenge the deaths of the Indian soldiers.
He was proud that Satnam sacrificed his life for the nation.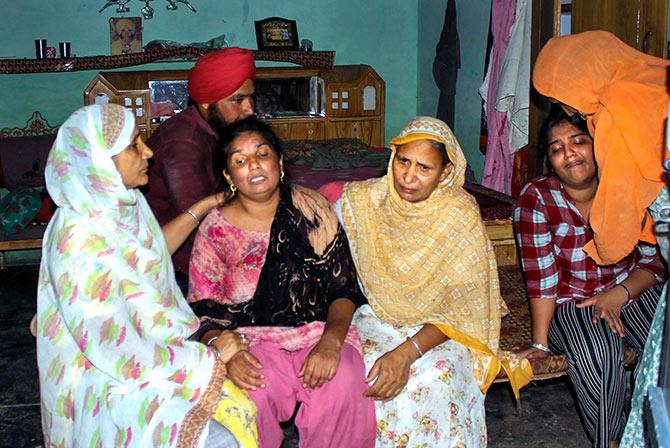 In Seel village in Patiala's Rajpura tehsil, the family of 39-year-old Naib Subedar Mandeep Singh was in grief.
The family includes his 65-year-old mother Shakuntla, wife Gurdeep Kaur and his three sisters.
Gurdeep Kaur said she had talked to him just a few days back.
Mandeep Singh had joined the Army in December 1997.
Patiala MP Preneet Kaur consoled the family members.
The fourth soldier from Punjab, Sepoy Gurtej Singh, 22, hailed from village Bire Wala Dogra in Mansa district's Budhadha tehsil.
Chief Minister Amarinder Singh on Wednesday offered condolences to the families and announced ex gratia compensation for them.
Under the government policy the next of kin of married soldiers receive Rs 12 lakh.
The families of unmarried soldiers are given Rs 10 lakh.
Deepak Kumar promised to come home when lockdown ends
When soldier Deepak Kumar Singh, posted in Ladakh, told his grandmother on phone a few days ago that he will come down home after the coronavirus-induced lockdown ends, he did not know this will be his last conversation with his family.
Deepak Singh, a resident of Farenda village near, had got married just seven months ago.
"I will come home on leave after the lockdown ends," the 30-year-old, a Naik in the Indian Army, told his grandmother Phool Kumari a few days ago.
As the news of his death spread, Singh's family members and residents of Farenda, located about 40 km from Rewa district headquarters, plunged into grief.
I spoke to him just a few days back and at that time he told me that after the lockdown ends, he will take leave and come home.
"But after the lockdown ended, we got the news of his martyrdom, Singh's 85-year-old inconsolable grandmother told PTI on Wednesday.
Phool Kumari informed that Deepak Singh's mother passed away several years ago and since then she has been looking after him.
"He was a very loving person and used to respect everyone in the house. Everybody used to like him a lot," she said, fighting back tears.
Deepak Singh got married on November 30, 2019, and his wife, Rekha Singh, works in the Navodaya Residential School at Sirmaur town in the district, family sources said.
Army officials informed us about his martyrdom around 8 am on Wednesday and since then a pall of gloom has descended on the entire village, his family members said.
It was a shocking news for all in the village, Phool Kumari said.
"The Army officials told us that his mortal remains would reach the village by Thursday," she said.
Deepak Singh joined the Army in 2013 and was posted at the Galwan Valley with the Bihar Regiment.
His father, Gajraj Singh, is a farmer and his elder brother, Prakash, is also in the Army and posted at Jaisalmer in Rajasthan, the family sources said.
Ganesh Ram Kunjam was to get married next year
The family of a 27-year-old Army jawan from Chhattisgarh had finalised his marriage during his last home visit and planned to solemnise it next year, his relatives said on Wednesday.
Ever since the news about the death of Sepoy Ganesh Ram Kunjam, who hailed from Gidhali village in Kanker district, trickled in, his family members are in a state of shock, but also filled with a sense of pride over his sacrifice for the country.
After completing his education till Class 12, Ganesh Kunjam had joined the Army in 2011 as he wanted to serve the nation, his paternal uncle Tiharu Ram Kunjam said.
Family members of Kunjam were busy with their routine work when on Tuesday afternoon they got the shocking news of his death.
I got a call from an Army man who introduced himself as a senior of Ganesh and told me that he was calling from Kashmir. He informed us that Kunjam has got martyred at the China border, Tiharu Kunjam said.
The person also asked me to watch news channels (which were reporting about Ladakh clash). When I switched on the news channel, it was showing names of only three martyred soldiers excluding Ganesh, he said.
The Army person told Tiharu Kunjam that his mortal remains will arrive in the village by next day.
Ganesh had come home on leave in February-March this year during which his marriage was fixed with a girl of a village in Kanker.
"Earlier, we had planned to hold the wedding this year itself, but due to some family issues and other reasons we postponed it to next year, he said.
Just last month, I got a call from him during which he said 'mai kahi dusri posting me ja raha hu chacha (uncle, I am being posted to some other place'.
"Since then, I tried to call him many times but his phone remained switched off," an inconsolable Tiharu Kunjam said.
"I had never thought that the phone call made in May would be our last conversation. We all are in shock, Tiharu Kunjam said.
Ganesh Kunjams father, Itwaru Ram Kunjam, is a small farmer and largely dependent on agricultural activities for livelihood.
Ganesh Kunjam has two sisters, the elder one is married while the younger one works in a company in Pune (Maharashtra), Tiharu Kunjam said.
Tiharu Kunjam said, I am proud of my nephew's martyrdom but sacrifices of our soldiers should not go in vain.
Hearing the news of Ganesh Kunjam's sudden death, grief-stricken villagers visited his house to offer condolences.