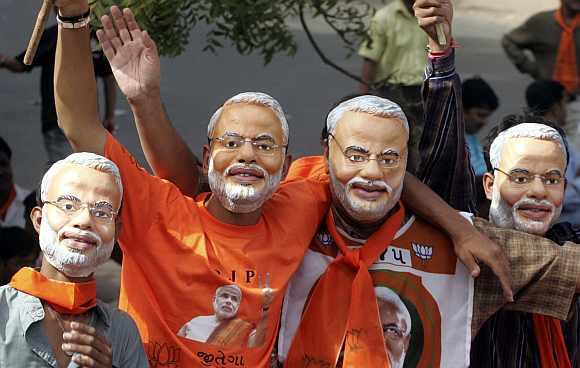 Given the depleting mass base of the regional Asom Gana Parishad led by former chief minister Prafulla Kumar Mahanta, a section of senior leaders of the party are waiting in the wings to join the Bharatiya Janata Party, which is gaining ground in Assam.
A shrewd Mahanta is trying very hard for a tie-up with the saffron party for the upcoming Lok Sabha polls to put a stop to the exodus.
Senior APG leader and former minister Hitendra Nath Goswami left the party along with a section of his supporters from the Jorhat regional committee in eastern Assam citing lack of vision and drive on part of the incumbent leadership. He complained that the party was not willing to infuse young blood into its ranks.
Goswami has already announced his intention of join the BJP.
Another senior AGP leader and a former party president Chandra Mohan Patowary is all set to join the saffron party along with a large number of his supporters. His exit will serve a big blow to the AGP's strength in the Nalbari district of western Assam.
Last year, senior AGP leader Atul Bora had joined the BJP in presence of party president Rajnath Singh in a rally in Guwahati.
The AGP first came to power in Assam in 1985 after signing the Assam Accord at the culmination of a six-year agitation against illegal migrants from Bangladesh. The party was formed by the then leaders of the Assam Agitation belonging to All Assam Students' Union and the Asom Gana Sangram Parishad. It again assumed power in Assam in 1996.
Mahanta was the CM during the party's rule.
However, AGP's downfall started in 2001 when it received a severe drubbing at the hands of the Congress and since then it has not won a single election. The leadership too has not taken any concrete steps to rejuvenate the party.
As a result party workers and a section of leaders have been looking for alternative options and the BJP is one of those.
Meanwhile, AGP's attempt for a tie-up with the BJP is being stonewalled by the state BJP leadership headed by its president Sarbananda Sonowal. A former AGP member he quit the party because of his differences with Mahanta in 2011.

Image: Supporters of BJP's PM candidate Narendra Modi attend a rally

Photograph: Reuters