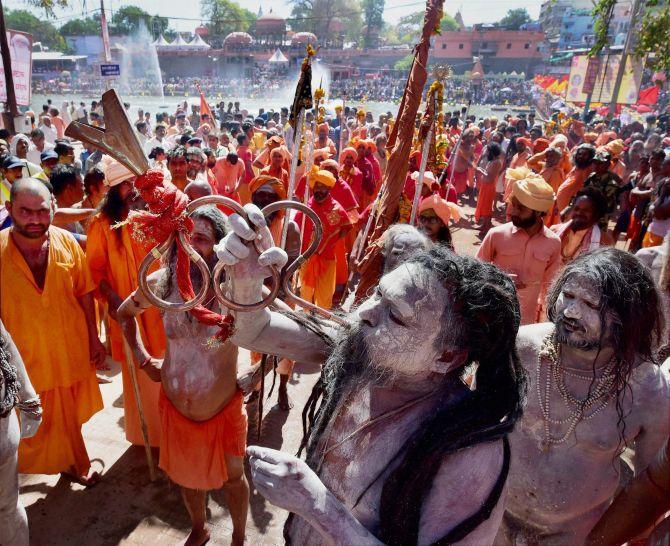 The campaign for gender equality in temples has now reached the ongoing Simhastha Kumbh Mela being held at Ujjain, with a woman seer demanding parity with her male counterparts in the month-long religious fair, failing which she has threatened to re-stage a samadhi protest on the issue.
The woman, Trikal Bhavanta, the Pari Akhara head, who entered into a samadhi on Tuesday for not getting facilities at par with male seers in the Mela, was arrested on Wednesday on charges of disrupting peace.
Her agitation reached a crescendo when she sat for a samadhi inside a pit and her followers reportedly started filling it, forcing the administration to intervene and persuade her to give up the protest.
"In order to ensure that peace does not get disrupted in the ongoing Simhastha mela, we have taken this action," Inspector General Madhu Kumar said.
Bhavanta was arrested under sections 151, 309 and 336 of the Indian Penal Code on Wednesday when she tried to stage the protest at the same spot again, Additional SP Aditya Singh, in charge of security of mela in Datt Akhara area, said.
She had on Tuesday threatened that if matters like allotting space for royal bath and other facilities extended to Akharas headed by male seers are not provided to Pari Akhara within 24 hours, she would again stage protest.
Meanwhile, Akhara Parishad General Secretary Hari Giri said there is a laid down procedure for recognising any new Akhara which the Pari Akhara has to follow for obtaining recognition.
Giri said it is for the government to take a call on providing facilities to it.
However, he said when the government was unable to provide proper facilities to existing 13 Akharas, how it can provide the same to a new one.