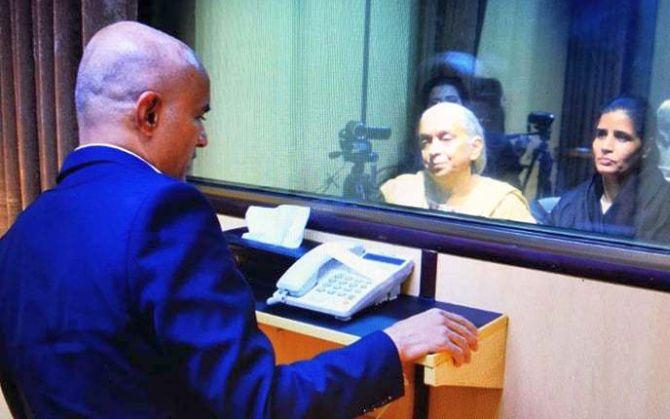 The wife and the mother of former Indian naval officer Kulbhushan Jadhav met External Affairs Minister Sushma Swaraj in New Delhi.
Foreign Secretary S Jaishankar and Ministry of External Affairs spokesperson Raveesh Kumar were also present at Sushma Swaraj's residence.
The two women returned on Tuesday morning after meeting the convicted Jadhav in Pakistan.
Jadhav's meeting with his family members was not any ordinary meeting as they were separated by a glass barrier.
The Pakistan ministry of foreign affairs, to this end, clarified that the screen was placed due to security reasons and that Jadhav already knew this would be the setting.
"It was there due to security reasons. We had already told them that you will be able to meet him but a security barrier would be there," Dr Mohammed Faisal, Pakistan foreign ministry spokesperson, said in a press briefing in Islamabad.
Faisal substantiated his stance by adding that Islamabad considered Jadhav as "the face of Indian terrorism, especially in Pakistan."
In addition to this, the MoFA released another 'confessional' video of Jadhav's, in which the convicted alleged spy was seen confessing that he did cross from Iran to Pakistan two years back.
Jadhav, in the video that was apparently shot before he got to meet his kin, also said that he had requested to meet his family members and that he was grateful to the Pakistan government for letting that happen.
Jadhav's wife and mother, before meeting him, had visited the Indian high commission in the Pakistani capital, after which they moved to the MoFA building.
Indian Deputy High Commissioner in Islamabad JP Singh was also present during the meeting.
Pakistan had agreed to facilitate the visit of Jadhav's family and also assured their safety, security, and freedom of movement in the country.
Jadhav was arrested in March this year, in Balochistan, Pakistan, over charges of alleged involvement in 'espionage and subversive activities for India's intelligence agency.
India, however, maintains that Jadhav was kidnapped from Iran where he had business interests after retiring from the Indian Navy.