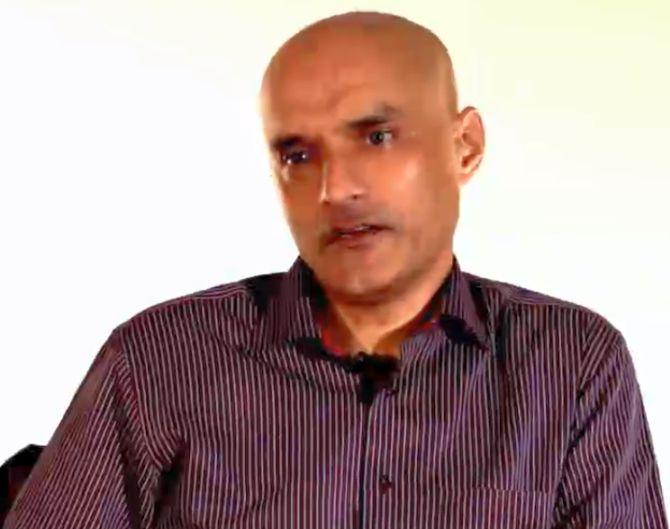 Indian national Kulbhushan Jadhav has sought clemency from the Pakistan Army chief over the death sentence handed down to him by a military court after his plea to an appellate court was rejected, the army said on Thursday.
The development comes just over a month after the International Court of Justice stayed Jadhav's execution.
Pakistan Army's Inter-Services Public Relations, in a statement, claimed that in his plea, Jadhav has "admitted his involvement in espionage, terrorist and subversive activities" in Pakistan and "expressed remorse" at the resultant loss of lives and extensive damage to property.
"Seeking forgiveness for his actions he has requested the Chief of Army Staff (General Qamar Javed Bajwa) to spare his life on compassionate grounds," the ISPR said.
The statement said that Jadhav, a 46-year-old retired Indian Navy officer, had earlier appealed to the Military Appellate Court which was rejected.
Under the law, he is eligible to appeal for clemency to the Chief of Army Staff and if rejected, subsequently to the Pakistan President.
Pakistan claims its security forces arrested Jadhav from its restive Balochistan province on March 3 last year after he reportedly entered from Iran. However, India maintains that he was kidnapped from Iran where he had business interests after retiring from the Indian Navy.
The Pakistan military also released a "second confessional video", in which purportedly Jadhav can be seen "accepting his acts of terrorism and espionage".
In the video, Jadhav is shown to be detailing his alleged "subversive and terror activities" for which he has been convicted by a military court.
"During my judicial proceedings which were held under the field General court martial, I was accorded a defence council by the officials here which were conducting the entire proceedings," he says in the video.
He is also shown apologising for his acts and seeking pardon.
The army said it released the video "so that the world should know what India has done and continues to do against Pakistan."
Pakistan Army had also released a "confessional video" of Jadhav after his arrest.
Jadhav was in April sentenced to death by Pakistan's Field General Court Martial on charges of "involvement in espionage and sabotage activities" against the country.
India moved the ICJ against the death penalty handed down to Jadhav on May 8.
India has accused Pakistan of violating the Vienna Convention by repeatedly denying consular access to Jadhav.
In a hearing of the case on May 18, a 10-member bench of the ICJ restrained Pakistan from executing Jadhav.
Earlier this month, Pakistan had said that the Indian national would not be executed until he has exhausted his mercy appeals.