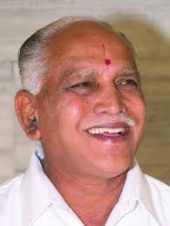 The Bharatiya Janata Party in Karnataka is expected to face more hiccups in the days to come, as 15 to 20 of its legislators are likely to join the B S Yeddyurappa-led Karnataka Janata Party.
Minister for Large and Medium-Scale Industries Murugesh Nirani and Minister for Excise M P Renukacharya will join the party on March 29 and 30 when the KJP will holds its convention at Bagalkot and Belgaum.
Although at the outset it appears that the main intention of the KJP is to wipe out the BJP in Karnataka, it is still interesting to find out why so many BJP legislators are joining hands with the former Karnataka chief minister.
Going by the results of the local body polls held recently, the KJP cannot claim that it put up a good performance. However, the party argues that the situation would be different in the May 5 assembly elections.
Yeddyurappa, Renukacharya, Nirani, former energy minister Shobha Karandlajeare definite winners, according to the KJP. They party is also expecting state Housing Minister V Somanna of the BJP to join them.
The leaders who have quit or are planning to quit the BJP feel that they are better off representing the KJP. People tend to remember the party more than the candidate is a common sentiment. Fighting on a BJP ticket, especially in certain pockets of Karnataka, may not have a great impact since the people are thoroughly disappointed with the performance of the government in the past five years, some candidates believe. The BJP is being remembered for infighting more than governance, they add.
Moreover, the rebels feel in case they win they stand a better chance of being in the government. The Congress will depend on allies such as the KJP to form the next government in the state.
The KJP is also expecting some Janata Dal-Secular leaders to quit and join them. A lot is likely to change in the first week of April when parties will announce their list of candidates. There are bound to be a lot of disgruntled leaders from other parties to join the KJP, as it is being quite generous in the distribution of tickets.
The KJP will field all 224 candidates, but the focus would be on the 100 seats where the BJP is strong. The KJP would put up a weak show in the rest of the 124 seats as it feels that it should not split the Congress vote and ensure that the party wins, say sources.

Image: Karnataka Janata Party chief B S Yeddyurappa