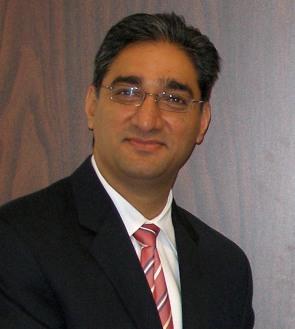 Kris Kolluri, a former New Jersey senior government official, was recently appointed the new chief executive officer of the Rowan University/Rutgers-Camden board of governors.
The appointment was approved by the board last month at a meeting at the Cooper Medical School of Rowan University.

A resolution to formally solicit proposals from Rowan and Rutgers-Camden for a collaborative instructional and research initiative was also passed at the meeting.
"Camden is well positioned to become the regional health sciences hub and my goal and the board's mission is to leverage existing 'eds and meds' assets to spur innovation and economic growth," Kolluri told rediff.com.

"Crucial to these efforts will be the ready availability of unprecedented economic incentive programs enacted into law recently. I am honoured to have the opportunity to work for the board to advance this mission."

Kolluri has over a decade of experience in the New Jersey government.

He was the Commissioner of Transportation for the state from 2006 to 2008. He oversaw the consolidation of New Jersey's primary transportation agencies, including 17,000 employees and $2 billion in operating funds, to bring about operational efficiencies.
He also served as the chief executive officer of the New Jersey School Development Agency and as chief of staff and assistant commissioner of the New Jersey Department of Transportation.
These stints were preceded by more than a decade of experience on Capitol Hill as a senior Congressional staffer.

'With so many high priorities facing the board -- from developing an initial budget to creating a strategic plan for the future -- we needed someone with the skills that Kris has in running efficient public agencies to direct our day-to-day operations and ensure our long-term success,' Jack Collins, chair, board of governors, said.

'Kris had been in discussion with Rutgers officials for a position at the University and through their cooperation we were able to secure him as our chief executive officer.'
Rowan University is a state-designated public research institution with campuses in Glassboro, Camden and Stratford that just received a $3.05 million grant from the Robert Wood Johnson Foundation to develop innovative approaches that respond to the region's emerging needs for access to affordable and effective health care services.
As the southernmost campus of Rutgers, New Jersey's flagship public research university, Rutgers University-Camden enrols 6,350 students in 35 undergraduate and 18 graduate programmes, including three doctoral programme and South Jersey's only law school.
The Board's resolution to solicit plans for a collaborative educational and research programme enables Rowan and Rutgers-Camden to develop a formal proposal for the Board's consideration.
The two universities have been working on this initiative for some time in anticipation of the organization of the Board of Governors.
The Rowan University/Rutgers-Camden board of governors was created by the New Jersey Medical and Health Sciences Education Restructuring Act, and the board's mission is to encourage the development of curricula and programs at Rowan and Rutgers-Camden in the area of health sciences and to leverage the educational and research assets of the universities to support the growth of the area's health care capacity and lead to regional economic growth and civic engagement.