The Kashmiri Pandit family that braved peak militancy in Jammu and Kashmir in the 1990s to stay put in the Valley was forced to migrate to Jammu after terrorists killed its breadwinner Sanjay Sharma.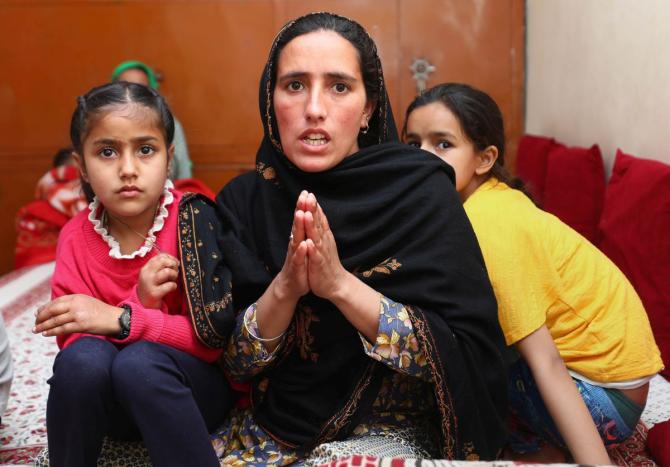 Three weeks after Sanjay Sharma, who worked as an ATM guard, fell to the bullets of terrorists, his widow along with three minor children and six other close relatives reached Jammu and applied for registration as migrants.
Sunita, the wife of Sanjay Sharma, sought the intervention of the lieutenant governor in providing them with a proper rehabilitation package, including accommodation, a job on compassionate grounds and free education for the orphaned children.
Sharma (40) was shot dead by terrorists at point-blank range in the Achan area of south Kashmir's Pulwama district on February 26.
"We were living under constant fear after the unfortunate incident which turned our life upside down. We are not safe there and will never return. If the government fails to rehabilitate us, I along with my children will commit suicide," Sunita, flanked by her children aged between two and nine years, told PTI.
Having taken shelter at the house of a relative in the Udaiwala area on the outskirts of the city on Wednesday, she said they have met Relief and Rehabilitation Commissioner Kuldeep Krishan Sidha and submitted an application seeking registration as migrants and three sets of government accommodation for the family.
"The family met me yesterday (Thursday) and submitted an application. We have assured them of appropriate action," Sidha told PTI.
He said the case will go to a government-constituted screening committee which will decide the fate of their application for registration as migrants, while the request for accommodation has been forwarded to the department concerned for early action.
"We are a total of 14 members and need three government quarters as we are presently living at our relative's homes. But how long will they help us?" she said.
Sunita said migration never came to their minds in the past three decades. "We never faced any problem or threat. We were living a normal life till the fateful day when my sick husband was shot dead while we were on the way to a doctor for his medical check-up."
"We did not come out of the house for a fortnight due to fears. We will never return there and if the government fails to rehabilitate us, I along with my children will commit suicide," she said.
"Politicians, including the BJP's Ravinder Raina and PDP's Mehbooba Mufti, visited us and made big promises. But we are suffering and are on the roads without a roof. The L-G did not visit us. We want him to come forward and extend support to us on humanitarian grounds," she said.
Besides Sunita and her children, her brother-in-law Deep Ji, his wife Anokha Sharma and sister-in-law Usha and their children have come to Jammu. Usha's husband Bhushan Lal, who is ill, is still in the Valley along with three other family members waiting for living arrangements in Jammu.
Deep Ji said security was given to them but "you cannot move around with security personnel all the time".
"The killing of my brother was a planned attack and his death shattered us. Even after the target killings started, we moved around without thinking that any of us would be attacked," he said, pleading for government accommodation and proper rehabilitation for Sunita and her children.
Usha described the situation in the Valley as "very bad" and requested speeding up the process to provide them accommodation in Jammu.
"He (Sharma) was like my son and his killing dealt a big blow to the family. We felt insecure there and have come to Jammu," she said.
© Copyright 2023 PTI. All rights reserved. Republication or redistribution of PTI content, including by framing or similar means, is expressly prohibited without the prior written consent.