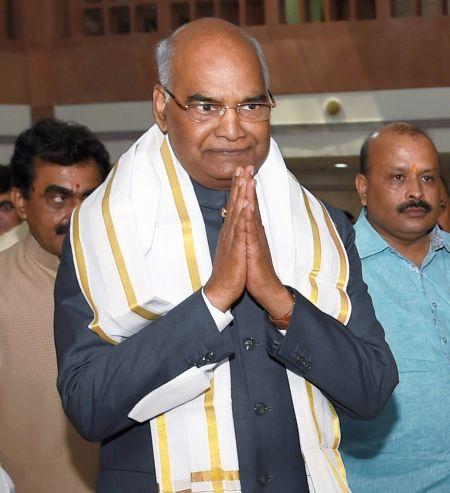 The National Democratic Alliance's presidential nominee Ram Nath Kovind will be in the Uttar Pradesh capital on Sunday to seek support from elected representatives while preparation in the assembly is on for smooth conduct of voting, slated for July 17.
A senior Congress leader said the Opposition's presidential pick Meira Kumar might also pay a visit to Lucknow to seek votes from the electoral college as the party "will not leave any stone unturned" for the election.
"She, in all probability, will be accompanied by AICC general secretary Gulam Nabi Azad and is likely to meet all elected representative, cutting across party affiliations," he said.
The state, which has the maximum population in the country, has the highest value of each vote in the presidential election.
The electoral college includes elected members of the Lok Sabha, the Rajya Sabha, states, union territories and the NCT region of Delhi.
"The NDA's presidential nominee Ram Nath Kovind will be in the state capital tomorrow and will be going to Uttarakhand the next day," national general secretary of the Bharatiya Janata Party Bhupendra Yadav said.
He is likely to meet MPs and MLAs of the BJP, its allies and also leaders of other political parties over dinner, sources said.
On its part, the state assembly secretariat has started preparations and had also held meeting with a high-level delegation of the Election Commission on Friday.
"All necessary steps are being initiated to make foolproof arrangements before the presidential election," a senior official of the assembly said.
For the first time, a special pen and ink would be brought to Lucknow from Delhi to be used by voters to mark their preference of candidates.
For presidential elections, votes are marked in a preferential order which is then counted to declare the winner.
Since the NDA's presidential pick hails from Kanpur Dehat district of the state, Chief Minister Yogi Adityanath has said it is an honour that the son of Uttar Pradesh would be occupying the presidential office.
Kovind had been active in the Uttar Pradesh unit of BJP and was even appointed the general secretary when Laxmikant Bajpai was the party's state chief. But, he chose to switch to the party's central unit.
After the Narendra Modi government came to power, he was appointed the Bihar Governor, from where he resigned after being named the NDA's presidential nominee.
Image: NDA's presidential nominee Ram Nath Kovind. Photograph: Subhav Shukla/PTI Photo