The apex court also rejected the plea to appoint a Special Investigation Team for probe.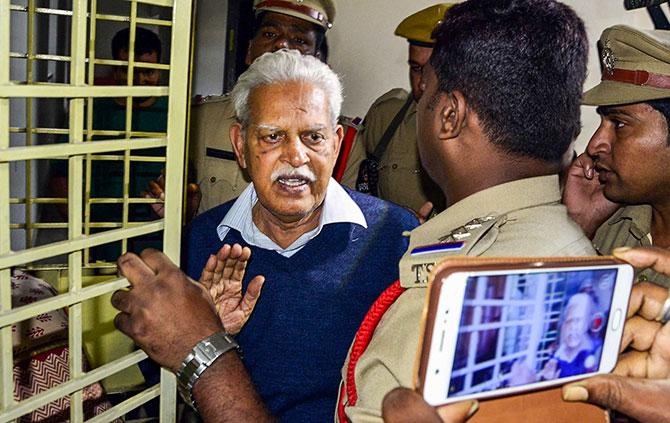 Rejecting a plea for release of five activists held in connection with the Koregaon-Bhima violence case for alleged Naxal links, the Supreme Court on Friday refused to order a special probe into their arrest, saying it was not a case of "more dissenting views or difference in political ideology".
The 2:1 majority verdict of an apex court bench was hailed by Maharashtra Chief Minister Devendra Fadnavis as a "victory" for the state police, which had arrested the five activists after a nationwide raid a month ago. The Bharatiya Janata Party used the opportunity to slam the Congress and its president Rahul Gandhi, alleging they stand exposed for supporting "urban naxals plotting to kill Prime Minister Narendra Modi".
The Congress hoped the police will conduct investigations as per the law and not according to the "whims and fancies" of the BJP.
The petitioners, who had sought the Supreme Court's intervention in seeking immediate release of the five activists, said their stand found "vindication" in the dissenting opinion expressed by Justice D Y Chandrachud, who said dissent is symbol of a vibrant democracy.
"Individuals who assert causes which may be unpopular to the echelons of power are yet entitled to the freedoms which are guaranteed by the Constitution. Dissent is a symbol of a vibrant democracy. Voices in opposition cannot be muzzled by persecuting those who take up unpopular causes," the judge said in his separate dissenting judgement.
Chief Justice Dipak Misra and Justice A M Khanwilkar, however, said in their majority verdict, "We are of considered opinion that it is not a case of arrest because of mere dissenting views expressed or difference in the political ideology of the named accused, but concerning their link with the members of the banned organisation and its activities."
The court ruled the accused will remain in house arrest for four more weeks during which they are at liberty to avail legal remedies in appropriate court which can consider the case on merits.
A large number of activists had come out in support of the accused and had levelled various allegations against the investigators.
Refusing to appoint an Special Investigation Team to probe the arrests, the top court held that the "accused cannot ask for changing the investigating agency or to do investigation in a particular manner including for court-monitored investigation."
The Maharashtra Police has maintained that its action was based on cogent evidence.
Refusing to interfere with the arrests, the court said further proceedings against the accused would be decided on the merits of the case without being influenced by the observations of the apex court.
It also said that this is not the stage where the "efficacy of the material or its sufficiency" can be evaluated nor it is possible to enquire whether it is genuine or fabricated as it would cause prejudice to the parties, adding they can opt for discharge at an appropriate stage if there is no evidence against them.
The Maharashtra police had arrested the activists on August 28 in connection with an FIR lodged following a conclave -- 'Elgaar Parishad' -- held on December 31, 2017 that allegedly triggered violence later at Koregaon-Bhima village.
The five activists -- Varavara Rao, Arun Ferreira, Vernon Gonsalves, Sudha Bharadwaj and Gautam Navlakha -- were put under house arrest on August 29 following an apex court order on the plea by historian Romila Thapar, economists Prabhat Patnaik and Devaki Jain, sociology professor Satish Deshpande and human rights lawyer Maja Daruwala against the police action.
Pune Police chief K Venkatesham said they will continue to "professionally" investigate the case.
Fadnavis said the court decision proved there was "no crushing of dissent" or any "conspiracy" behind the action by the state police.
"This is a victory for the Pune police which collected forensic and collaborative evidence. We will move appropriate courts and take custody of the arrested persons," Fadnavis said.
He said the arrested people had "links" with banned naxal groups and that the police had not acted with any ulterior motive.
Prominent Telugu poet Rao was arrested on August 28 from Hyderabad, while activists Gonsalves and Ferreira were nabbed from Mumbai, trade union activist Sudha Bharadwaj from Faridabad in Haryana and civil liberties activist Navlakha from Delhi.
Justice Khanwilkar, writing the majority judgement for himself and the CJI, said any observation made by this court may cause "serious prejudice" to them who are not before this court resulting in "serious miscarriage" of justice.
"We may hasten to mention that we have perused the registers containing relevant documents and the case diary produced by the State of Maharashtra. But we have avoided to dilate on the factual position emerging therefrom, lest any prejudice is caused to any accused or the prosecution, in any manner," he said.
The judge said except pointing out some circumstances to question the manner of arrest, no specific material facts and particulars are found in the petition about the alleged mala fide exercise of power by the investigating officer.
He said a vague and unsubstantiated assertion was not enough and the plea of the petitioners of lack of evidence against the accused has been seriously disputed by the investigating agency.
The court agreed with the state's argument that the plea to change the investigating agency cannot be dealt with lightly and it must exercise that power with circumspection.
Chronology of activists' arrest case
>> December 31, 2017: Elgar Parishad — a conference held in Shaniwar Wada near Pune to mark the 200th anniversary of the Battle of Koregaon-Bhima.
>> January 1, 2018: One person killed in caste violence between two groups near Sanaswadi, adjacent to Koregaon-Bhima leading to the statewide Dalit agitation.
>> June 6: Pune police arrests prominent Dalit activist Sudhir Dhawale, Nagpur University head of English department Shoma Sen, activist Mahesh Raut and Kerala native Rona Wilson, who is associated with committee for release of political prisoners, in the case.
>> August 28: Maharashtra Police arrests Telugu poet Varavara Rao from Hyderabad, activists Vernon Gonsalves and Arun Ferreira from Mumbai, trade union activist Sudha Bharadwaj from Faridabad and civil liberties activist Gautam Navlakha from Delhi.
-- Petition filed in Delhi HC on behalf of Navlakha challenging his arrest.
-- Delhi HC directs Navlakha, arrested for alleged Maoist links, not be taken away from the national capital till it hears the matter next day.
-- Punjab and Haryana HC Court stays transit remand of Bharadwaj.
>> August 29: Maharashtra Police gives in Delhi HC translated documents including FIR to Navlakha's counsel.
-- Historian Romila Thapar and four activists move SC against the arrest of five rights activists seeking their immediate release and SIT probe.
-- SC directs all activists be kept under house arrest till September 6.
>> August 30: Delhi HC not to proceed with hearing of the plea against Navlakha's arrest till further orders from SC.
>> September 5: Maha govt claims in SC that activists were not arrested for their dissenting views but due to the cogent evidence linking them with the banned CPI(Maoist).
>> September 6: SC extends activists house arrest till Sep 12.
>> September 12: SC extends their house arrest till Sep 17.
>> September 17: SC further extends their house arrest till Sep 19 saying it will examine whether there is material supporting their arrest in the case.
>> September 19: SC again extends house arrest of activists for a day saying it will look into their arrest with a 'hawks eye'.
>> September 20: SC reserves verdict on the pleas.
>> September 28: SC, in a 2:1 verdict, refuses to interfere with the arrests and declined to appoint a SIT.