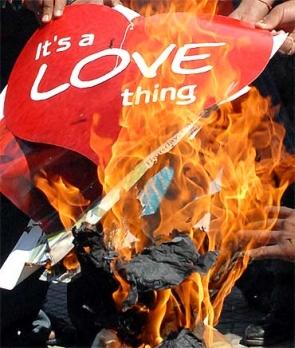 Cupid has played its role for years in the 200-year-old Presidency University in Kolkata but for the first time, love will now become a subject of study in its undergraduate curriculum.
The unique interdisciplinary course on love would be offered by the varsity's sociology department and would be available to students of all streams as a 50-mark optional paper.
Interestingly, one of the chapters would be on the depiction of love in Bollywood movies, where it is always a staple theme. Classics of Raj Kapoor, Guru Dutt to Yash Chopra's blockbusters would find a place in it.
The curriculum is being designed in a way that it includes all aspects of love, sociological implications in particular, said University's Vice-Chancellor Malabika Sarkar.
"Love has been depicted in various art forms since ages. Looking at the theoretical aspects, students will learn about the interpretation of love during the Bhakti period, Shakespearean dramas, modern literature, Bollywood films, paintings, and other art forms," she said.
The classes for the course would also delve into serious aspects like conflict between rationalism and emotion, subjectivity and objectivity, romance and utility, she said.
Preparing the framework on the subject of love was, however, proving to be tough work as there is no similar course anywhere else.
"There is no benchmark for us to follow," said a professor of sociology, who has been tasked with it. He did not wish to be named.
Established in 1817 as Hindu College by Raja Ram Mohan Roy, it was later on renamed as Presidency College and granted university status in 2010.
The rich alumni of the elite institute include Oscar-winning filmmaker Satyajit Ray, Nobel laureate economist Amartya Sen, India's first President Dr Rajendra Prasad, Pakistan's first Prime Minister Muhammad Ali Bogra and Bangladesh President Abu Sayeed Chowdhury, besides Swami Vivekananda and Netaji Subhash Chandra Bose. The list is endless.
To establish Presidency University as a preeminent institution of learning of international repute, West Bengal Chief Minister Mamata Banerjee set up a mentor group in 2011 to provide recommendations and a road-map for the future.
Earlier in the year, the varsity had announced that they will start offering interdisciplinary courses in sync with the international trend.