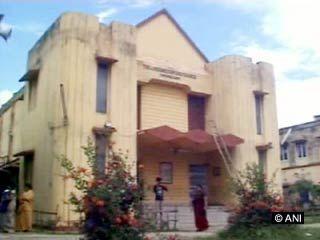 A low-intensity bomb on Saturday went off in a school ground in North 24 Parganas district in Kolkata injuring one person, a top police official said.
Commissioner of Police, Barrackpore police commissionerate, Nirad Singh said while cleaning the playground of a missionary school where a match was to be played later in the day, a ball-like object wrapped in plastic was found by a local youth.
The object which turned out to be a low-intensity bomb exploded when he threw it, injuring the leg of 21-year-old Johnny Haldar, Singh said.
Haldar was taken to a hospital and investigation was on, Singh said.
Saturday being a holiday there was no student in the school premises and the match was scheduled to be played by outsiders in the school ground.
Image: God Church School in Kolkata's Dum Dum Cantonment Area