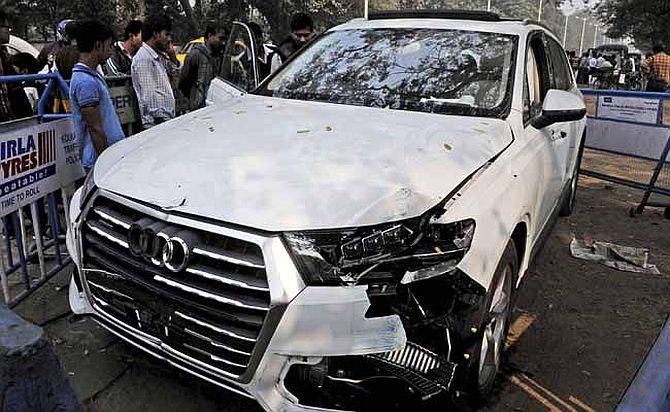 Sambia Sohrab, Johnny and Sonu, the three accused in the January 15 hit-and-run case, have been giving contradictory versions due to which police have not been able to reach a conclusion on the incident where an Air Force officer was mowed down by a speeding Audi during a Republic Day parade rehearsal.
"We tried to reconstruct what actually happened that day and how many persons were involved in the mishap. Separate interrogations of the three as well as questioning them after making them sit together were conducted by our detectives," a senior officer of Kolkata Police anti-rowdy section said.
However, no conclusion could be reached since they gave contradictory versions, he said.
"Sambia has been lying to us since day one... We are cross checking them with Johnny and Sonu's statements," the officer said.
On Wednesday, the sleuths took the three accused to the Red Road area where the accident happened on January 13 and tried to reconstruct the incident, he said.
"Johnny and Sonu said they were not in the Audi, while Sambia kept repeating that the two were travelling with him in that car. We found that they (Sambia, Sonu and Johnny) had fled together after the incident. They were together all through. They left the car and walked across the Maidan area and then hired a cab to Jorasanko in the city. Later, they went to a coffee joint at Park Street and then escaped from the state," the officer said.
To help the probe the sleuths would need to speak to Sambia's father former Rashtriya Janata Dal member of legislative assembly Mohammed Sohrab and his elder brother Ambia -- both of whom are absconding, he said.
"The question is why are they fleeing? We need to know their role in the matter. That will help our investigation," he added.