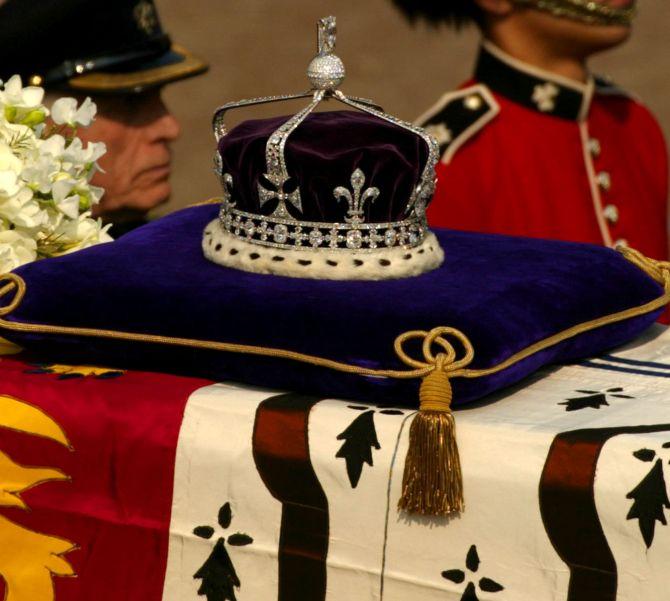 The 108-carat famed Kohinoor diamond cannot be brought back to Pakistan as it was handed over to the United Kingdom under the 'Treaty of Lahore' in 1849, provincial Punjab government told the Lahore high court on Wednesday.
"Maharaja Ranjeet Singh had inked the agreement with the East India Company in 1849 under which the precious diamond was given to the UK. Therefore, the UK government cannot be approached for return of the diamond," a law officer of the provincial government told the court during the hearing of a plea seeking direction for the Pakistan government to bring back Kohinoor, which India has also been trying to get from the UK for years.
Petitioner Barrister Javed Iqbal Jaffrey, however, opposed the government's plea, arguing, "Both governments were not authorised under the law of the land to sign such an agreement."
LHC Justice Khalid Mahmood Khan directed the government's counsel to submit a copy of the agreement between then Maharaja Ranjit Singh and the East India Company on the next hearing on May 2.
In his plea, Barrister Jaffrey has alleged that Britain had snatched the diamond from Daleep Singh, grandson of Maharaja Ranjeet Singh and took it to the United Kingdom.
"The diamond became part of the crown of incumbent Queen Elizabeth-II at the time of her crowing in 1953. Queen Elizabeth has no right on the Kohinoor diamond, which weighs 105 carats and worth billions of rupees," he said.
He claimed that Kohinoor diamond was 'cultural heritage' of Punjab province and its citizens owned it in fact, it said and prayed to the court to direct the federal government to bring the diamond back to Pakistan from the British government.
The Indian government had recently said that it will make all efforts to bring back the valued diamond, even as it had earlier told the Supreme Court that the diamond was neither stolen nor 'forcibly' taken by British rulers but given to East India Company by erstwhile rulers of Punjab 167 years back as compensation for helping them in the Sikh wars.