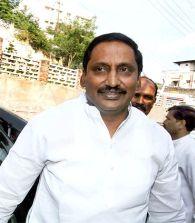 Andhra Pradesh Chief Minister N Kiran Kumar Reddy on Tuesday refused to get drawn into the debate of the "original and final" AP Reorganisation Bill-2013 even as he wrote to the President seeking extension of deadline for discussing and returning it.
"Let them read the Government of India rules," the chief minister said, in an obvious snub to Union Rural Development Minister Jairam Ramesh, who on Monday said that "there can only be one Bill which is final."
Maintaining that it was not a question of whether the Bill was "original or fake", the chief minister on Tuesday noted it was a question of whether it was comprehensive or not.
"In its present form, the Bill is not comprehensive. A Bill that has to be presented in Parliament should be comprehensive with details like statement of objects and reasons, financial memorandum and also the statement of purpose. The same Bill should be referred to the state Legislature for its views. Even the Article 3 of the Constitution specifies this," Kiran told reporters in an informal chat.
"Let them read the Government of India rules that specify what a Bill should contain," he said.
He asserted that only a "comprehensive Bill" should be sent to the President and not the draft.
The chief minister said he has written a letter to the President on Tuesday seeking extension of time beyond January 30 for the state Legislature to discuss and return the Bill.
Though the chief minister did not specify the additional time sought from the President, sources close to him said an additional three weeks were sought by the state.
The President initially gave time till January 23 to the state Legislature to discuss the Bill and return it but subsequently extended the duration till the 30th.
So far only about 90 MLAs, including the chief minister, spoke on the Bill and expressed their views while some others gave their opinion in writing.
But most of the Assembly time was lost in disruptions by either the Seemaandhra or the Telangana legislators on one demand or the other.
The Seemaandhra ministers and MLAs, who held a meeting with the CM, decided to seek additional time citing the frequent disruptions caused by their Telangana colleagues.
Accordingly, the chief minister said on Tuesday that he wrote a letter to President Pranab Mukherjee in this regard.