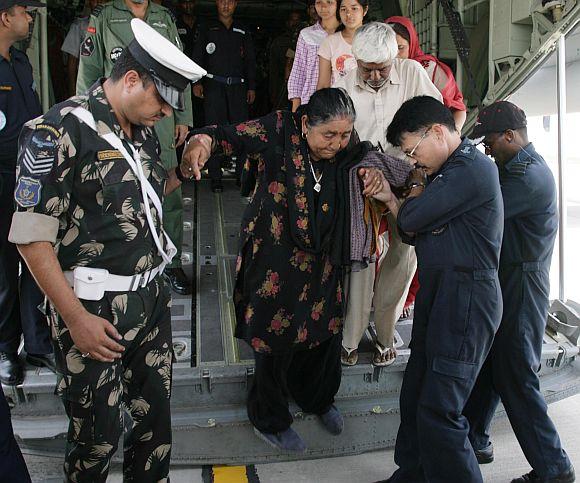 Delhi-resident Navneet Mishra is leaving no stone unturned, scouring towns, hotels, camps, hospitals and bus stops in flood-ravaged Uttarakhand in a frantic search for 11 of his family members and friends.
Mishra's mother, sister, younger brother, maternal grandmother, aunt, uncle, maternal aunt, niece, a friend and her mother and a woman neighbour are missing following the deluge that ravaged the hill-state.
The family of 29-year-old Mishra, who works in Delhi, is from Kanpur.
"We are about 10 family members here going out in different directions in search for them, scouring hotels, inns, camps, hospitals, checking out the survivors list. "Some of us sleep in the cars while others stay in hotels. From Dehradun, we are heading to Hrishikesh and Haridwar. Some of us even stay at bus stops looking out for them," Mishra told PTI.
What inspired Mishra to stay positive about finding the missing people is the miraculous survival of his father Roopram Mishra, 52, in Guptakashi a few days ago. "We have not given up hope. Though 11 of our family members and friends, who were traveling together are missing, finding my father makes me stay positive about finding the rest," he said.
"My father had returned to the hotel from Kedarnath darshan and was staying there on June 17 when the building collapsed. He says he was washed away by the flood with ice over his body.
"When he regained his consciousness, he found himself trapped in a building about 50 metre from his hotel where all the doors were buried in debris. He could see things from the skylight and when he spotted the priest whom he had met earlier at the temple, he cried out for help," he said.
Four persons pulled him out of the debris, as a result of which he got some wounds on his body. He later called me while recuperating in a hotel, he said. The family of 12 had hired a Tempo Traveller from Kanpur and left on June 6 and were scheduled to return by June 18.
But due to delays in Saharanpur and Kedarnath for some reasons, they got caught up there, he said. The missing family members are -- Karuna Mishra ,50, Akansha Mishra, 25, Priyank Mishra, 20, Chandra Kali Awasthi, 65, Sarojini Shukla, 64, Radha Krishna Shukla, 64, Sharada Dwiwedi, 36, Yashi Dwiwedi, 12, Nidhi Saini, 26, Sushila Saini, 60, and Preeti Saxena, 38.
Navneet says he heard that some TV channels were carrying reports about the location of his sister Akansha being with a Gujrati family and if anybody has info about her whereabouts, the person can contact him mobile no 09560762979.
But, he says, finding his father and family members also made him learn about the apathy of the government and the police.
"When I reached Guptkashi to get my father back on June 20, there was no camp there and people rescued by the army were being dumped on the ground. There were problems with the survivors list also," he said.