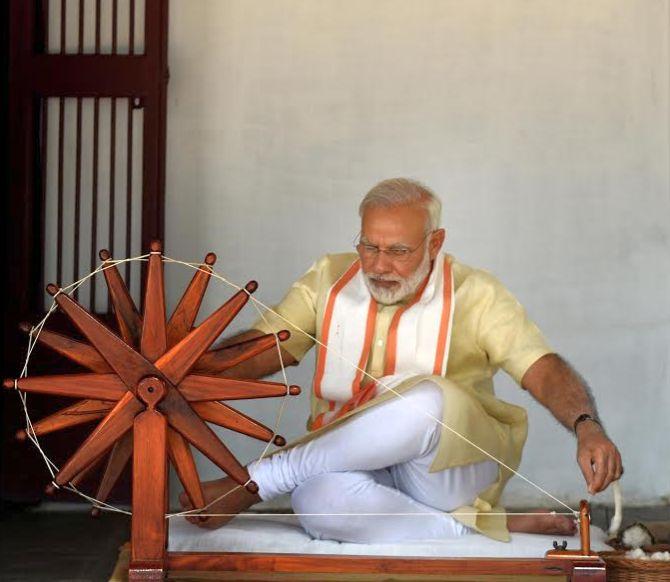 In a tough message against cow vigilantism and mob lynching, Prime Minister Narendra Modi on Thursday said killing people on pretext of protecting cows is not acceptable and warned that no one has the right to take law into his hands.
Addressing a public meeting to mark the centenary of the Mahatma Gandhi's Sabarmati ashram here, Modi said indulging in violence in the name of 'gau bhakti' (cow worship) goes fully against the ideals of the Father of the Nation.
Voicing his concern on the spate of incidents of lynching and violence over cows' protection, the prime minister said nothing would will be achieved from such acts.
"Today, I want to express my sadness and my pain, when I am here at the Sabarmati ashram," he said.
"This is a country which has the tradition of giving food to ants, street dogs, fish, the country where Mahatma Gandhi taught us lessons of non-violence. What has happened to us?" Modi asked.
"If a patient dies due to an unsuccessful operation, relatives burn down hospitals and beat up doctors. Accident is an accident. When people die or are injured in the accidents, a group of people come together and burn vehicles," he said, pointing out the prevalent trend among the people of taking law into their hands, and the mob violence.
"Nobody would have practised cow protection and cow worship more than Mahatma Gandhi and (his follower) Vinoba Bhave. They showed us the way how to protect cow. The country will have to adopt their way," the prime minister said.
"The Indian Constitution also teaches us about cow protection. But does this (cow protection) give us any right to kill a person. Is this gau bhakti? Is this cow protection?" Modi asked.
"Killing people in the name of 'gau bhakti' is not acceptable," he asserted, saying 'this is not something Mahatma Gandhi would have approved'.
"Let's all work together. Let's create the India of Mahatma Gandhi's dreams. Let's create an India our freedom fighters would be proud of," he said.
Modi said 'no person in this nation has the right to take the law in his or her own hands'.
"Violence has never solved and will never solve any problem. As a society, there is no place for violence," he said.
The prime minister's remarks come against the backdrop of the growing incidents of cow vigilantism. A Muslim youth was last week killed on board a Mathura-bound train by people who taunted his family and repeatedly called them 'anti-nationals' and 'beef eaters'.
Earlier in August 2016 too, the prime minister had denounced cow vigilantes, some of whom had flogged Dalits in his home state Gujarat. In his public denouncement, Modi had then said he felt enraged at such 'anti-social elements' who indulged in crimes by the night and masqueraded as cow protectors by the day.
Thousands of people across the country had on Wednesday taken to the streets in a citizens' protest named 'Not in My Name' against the recent incidents of killings by mobs.
Holding placards that read 'Break the Silence', 'No Place for Islamophobia' and 'Shed Hate not Blood', among others, the protesters said they had gathered to send out a message that there is a need to unite for a cause.
Modi, in his speech, narrated an incident related to cow that took place when he was young. He spoke about how he was advised by Vinoba Bhave to die for protection of cow.
The prime minister took a round of the Sabarmati Ashram and released books and postal covers as a part of the centenary celebrations of the place from where Mahatma Gandhi led the non-violence movement for the country's independence.
Photograph: PIB
© Copyright 2021 PTI. All rights reserved. Republication or redistribution of PTI content, including by framing or similar means, is expressly prohibited without the prior written consent.