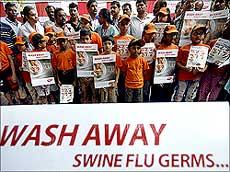 Authorities on Monday announced that all theatres, multiplexes and schools in Pune will remain shut for three days. Pune, which has reported three swine flu deaths out of the six across India, has emerged as the swine flu capital of the country.
A 35-year-old ayurvedic doctor and a four-year-old boy died of swine flu in Pune and Chennai today, taking the toll due to the dreaded viral infection in the country to six.
The medic, Babasahib Mane, died in the Sassoon Hospital in Pune this morning, becoming the third person in the worst-hit Maharashtra city to succumb to swine flu, a senior health official said.
Mane was ailing for sometime and blood had been found in his sputum in the last couple of days, he said.
In Chennai, a four-year-old boy, who was admitted to a private hospital with kidney and liver-related complications and had tested positive for swine flu, died this morning, health officials said. The boy had also been suffering from asthma. This is the first case of flu death in the city.
"The boy was in a very critical condition. He had been suffering from asthma and he had been taken from one hospital to another for various complications. Ultimately he landed up in this hospital for a kidney-related problem...and they found the boy testing positive (for swine flu)," Tamil Nadu Health Secretary V K Subburaj said.
The boy, who was on a ventilator, died following "multi-organ failure," S Ilango, Director of Public Health, said.
Image: A swine flu awareness rally in Hyderabad | Photograph: Krishnendu Halder/Reuters