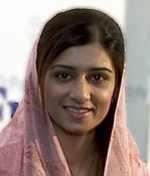 Lashkar-e-Tayiba founder Hafiz Saeed has criticised Pakistan Foreign Minister Hina Rabbani Khar for promising to take action against him if India provides evidence, saying the government had been unable to resolve outstanding issues like the Kashmir issue.
Saeed, named by India as the mastermind of the 2008 Mumbai attacks, claimed that evidence against him provided by India had been "dismissed" by Pakistani courts.
In the four years since the attacks in Mumbai, India "has been unable to provide any evidence against me in connection with the case. The documents provided by India as evidence could not stand in court and were dismissed by the Lahore high court as propaganda. A similar case was also made by the supreme court," Saeed told the Urdu newspaper
Ummat
.
"Despite this, Khar wants to ask India to
provide more evidence against me. She appears to be very eager to help India resolve the Mumbai case, but what has she done with regard to the Samjhauta Express attacks, where many Pakistanis were killed?"
Saeed, who now heads the Jamaat-ud-Dawah, was placed under house arrest for less than six months after the United Nations Security Council declared the JuD a front for the LeT in the aftermath of the Mumbai attacks in November 2008. He was freed on the orders of the Lahore high court.
The LeT founder was subsequently detained for incidents that occurred in Pakistan but let off again. Saeed also claimed the only way to resolve the Kashmir issue is "jihad".
Though the US offered a $ 10-million reward for him earlier this year, Saeed lives openly in Lahore and has organised a series of rallies and gathering at which he has spoken out against the United States and India.