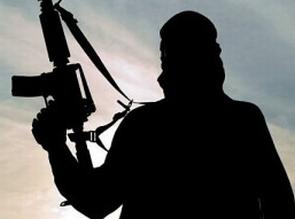 A Khalistani terror group has received the backing of Paksitan's ISI, reveals its chief in chilling confessions to the Punjab police after his arrest.

In a major anti-terror operation, the Punjab police on Thursday arrested a wanted militant Rattandeep Singh from Uttar Pradesh's Gorakhpur, 15 years after he reportedly fled from Haryana police custody.
Singh, allegedly trained by Pakistan's Inter-Services Intelligence, was made chief of a revived Khalistan terror group -- the Bhindranwale Tiger Force of Khalistan. He was wanted in connection with the 1999 bomb blasts at the Chandigarh passport office and a railway bridge at Panipat
During interrogation he told the police about a spate of attacks that were planned in India. The terror outfit was planning strikes in Chandigarh, Amritsar and Delhi and political assassinations. They also had on their hit-list several "religious leaders in Punjab who were hurting their cause", according to investigators. "These militants want to revive the struggle for a separate Punjab," investigating officers said.
Singh claimed that he received support from Pakistan's spy agency. "The ISI has set up a series of quarters in Lahore exclusively for Punjab militants," Singh reportedly told his interrogators. He boasted about a house provided to him by the ISI adjoining the high security Karachi airport.
"Singh said that he was trained extensively for several years along with other militants. The ISI had helped them a great deal in setting up modules in India and also creating financial routes," a police official told Rediff.com.

A master at preparing bombs, Singh then trained several operatives in fidayeen-style attacks.
According to Singh, the Khalistani group allegedly received financial aid from a United Kingdom-based non-profit body. "Money was collected from sympathisers; most of it came from Canada. Singh also spoke about an arms smuggling racket that he set up in Cambodia and Thailand," an investigator revealed.

Image: Representation picture