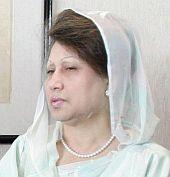 Former Bangladesh premier Khaleda Zia was on Saturday forced to vacate her posh cantonment residence of 30 years, after security forces laid a siege around the house to execute a high court order, while angry Bangladesh Nationalist Party supporters clashed with police in Dhaka opposing the action.
"She has left her 6 Mainul Road residence at the cantonment paying her respect to the high court order," an army spokesman told mediapersons adding that the Cantonment Board authorities extended her the due honour as she vacated the posh house.
Inter Service press relations director Shahinul Islam said Zia, 66, had some of her personal belongings with her while the "authorities" would make an inventory of the remaining items.
Media reports said BNP supporters clashed with police in the capital. The police have charged with batons to disperse hundreds of opposition activists, who have been protesting the bid to evict her from her military-owned home she has lived in for nearly 30 years.
Large number of security officials cordoned off Zia's house inside the army headquarters in Dhaka on Saturday, prompting the BNP protest.
Zia has been living in the house since 1981 when her husband, former President Ziaur Rahman, was assassinated in a military coup.
The home was allotted to Zia on humanitarian grounds. Asked where the opposition leader went, Islam said "she is a respected person a former prime minister and currently the opposition leader she can go anywhere."
But a police officer who witnessed the departure process said Zia's personal car carrying the national standard drove her to nearby Baridhara area outside the cantonment area.

Zia's press secretary Maruf Kamal Khan, however, alleged that the law enforcement agency people boarded her on a jeep after "evicting" her from her Dhaka Cantonment house.
The development came an hour after the BNP called a nationwide dawn to dusk general strike after police and elite anti-crime Rapid Action Battalion  troops laid a siege around her cantonment residence while army called it part of a process to regain possession of the posh house in line with a high court judgement.
"The attacking and undemocratic attitude of the government to oust our leader from her residence forces us to call the countrywide general strike tomorrow," BNP secretary general Kohondker Delwar Hossain told a hurriedly called press conference.
Witnesses and television reports earlier said several hundred policemen and RAB forces were deployed in front Zia's residence while BNP leaders earlier alleged she was under virtual "house arrest".
Image: Former Bangladesh premier Begum Khaleda Zia