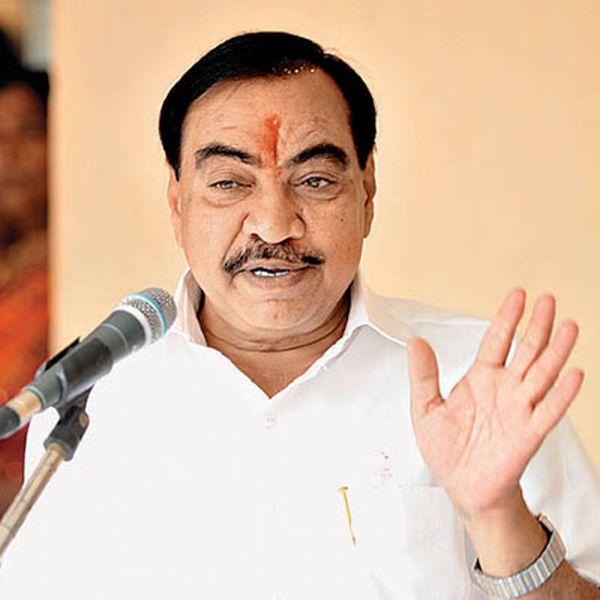 Maharashtra Chief Minister Devendra Fadnavis has directed the Anti-Terrorism Squad to probe the allegation that Revenue Minister Eknath Khadse received phone calls from fugitive gangster Dawood Ibrahim's house in Karachi.
"Both I and the chief minister wanted the matter to be investigated...So the chief minister has asked the ATS to probe it," Khadse told reporters on Wednesday.
Khadse, the senior-most Bharatiya Janata Party leader in the state cabinet, claimed he had documents to prove that his mobile phone was hacked to show as if calls were made, and added that he would hand over all the evidence in this regard to the investigating agencies.
The beleaguered minister said the matter was already being investigated by the cyber crime cell and local police, and the director general of police was supervising the probe.
Spokesperson of the Aam Aadmi Party, Preeti Sharma Menon, had levelled the allegation against Khadse last week.
The minister also sought to know why no questions were being asked about former AAP leader Anjali Damania's alleged dubious land deals in Raigad district.
Menon had alleged, citing the call records obtained from a Pakistani telecom company by an Ahmedabad-based hacker, that calls were made from Dawood's house in Karachi to a mobile number registered in Khadse's name.
Khadse had later rubbished the allegation saying the number was not in use for the last one year.
The minister also said he took the help of BJP MLC Gurmukh Jagwani, who has relatives in Pakistan, to verify Dawood's address cited in documents produced by the AAP, but it proved to be "fictitious".
Meanwhile, a day after Union Home Minister Rajnath Singh said Ibrahim would be nabbed soon, opposition Nationalist Congress Party took a dig at the government, asking if the gangster's phone calls to Khadse were made during the negotiations to bring him back.
"The home minister should clarify if the Centre is using Eknath Khadse to carry out negotiations to bring Dawood back to the country. That would explain the underworld don's calls to his number," NCP spokesperson Nawab Malik said.
The Mumbai police who earlier claimed that no calls were made or received on Khadse's phone number from Dawood's number, on Wednesday said a probe into the matter is still on as some "new elements" have emerged in the case.
"Neither calls were made nor received at the said number of the minister during period September 4, 2015 to April 5, 2016, that we spoke about. But after that we got some new elements into which our investigation is on," Mumbai Police Commissioner Dattatray Padsalgikar told reporters on the sidelines of an event at a suburban police station.
Padsalgikar, however, declined to divulge any further information on these "new elements".
He also parried questions on whether Khadse was given a 'clean chit' by the Mumbai police.