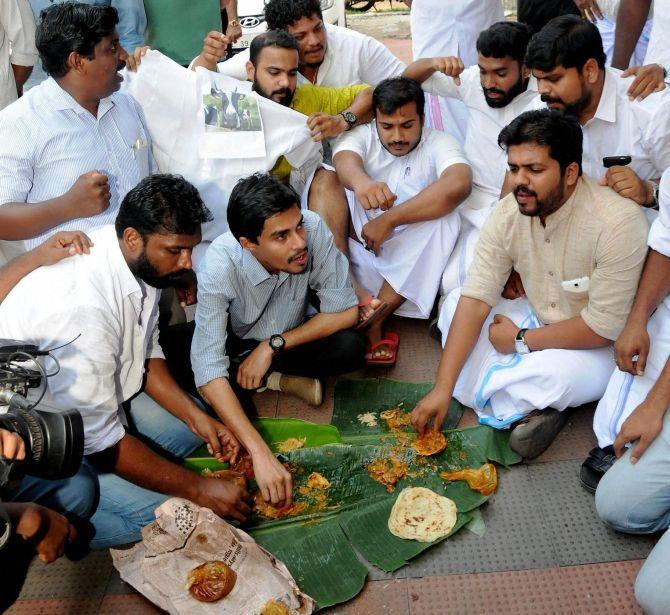 Police on Sunday booked some Youth Congress activists who allegedly publicly butchered a calf to protest the Centre's ban on sale of cattle for slaughtering, as the incident drew flak from various quarters.
Kerala Bharatiya Janata Party president Kummanam Rajasekharan, who posted the video of the the gory incident on twitter, called it 'cruelty at it peak' and said no normal person can behave in this manner.
Communist Party of India-Marxist MP M B Rajesh said the illogical form of protest should have been avoided and it would only help the Sangh Parivar.
An embarrassed Congress sought to distance itself, saying the party will not support anyone who has violated the law, but a Youth Congress activist who led the protest said he had no regrets.
The brazen act was committed in front of a huge crowd in Kannur on Saturday during the 'Beef Fest' held by the Left and Congress in Kerala to protest against the Centre's ban.
On the basis of a complaint from Yuva Morcha district general secretary C C Ratheesh, police today registered a case against Rijil Makulti, a Youth Congress worker, and others under Section 120 A of the Kerala Police Act, police sources said.
The offence deals with slaughtering any animal in a way that causes annoyance or inconvenience to the public and is punishable with imprisonment up to one year or a fine of up to five thousand rupees or with both.
"If anyone has violated the law then he should be dealt with accordingly and the Congress party will not support him. However, we need to first establish whether the person in the video is related to the party or not," said Congress
Spokesperson Abhishek Manu Singhvi at a press briefing in Delhi.
However, Rijil Makulti told a television channel today, "We don't regret our act. This was done as part of our protest."
The 18-month-old animal was butchered in an open vehicle as Youth Congress workers raised slogans against the Centre's decision to ban sale of cattle for slaughter. The meat was then distributed free to onlookers.
Congress leader Pandalam Sudhakaran said the manner in which the calf was dragged for being slaughtered left a pain in the heart. It is difficult to accept such mode of protests, he said.
Congress leader M Lijju, a former Youth Congress president, said there were certain rules with regard to slaughtering of animals which they should have kept in mind.
They might have carried it out considering the serious consequence of the government notification, he, however, added.
CPI-M MP Rajesh said the youth workers should have exhibited civilised behaviour.
Condemning the incident, Rajasekharan said the Democratic Youth Federation of India and the Youth Congress, youth outfits of the CPI-M and the Congress respectively, were turning 'butchers' and people should be careful.
In the name of protests against the cattle sale ban, animals are being slaughtered and protests staged with blood stained head of the butchered animal.
'Is it something a normal person does?', Kummanam asked in a press release.
The Centre has banned the sale and purchase of cattle from animal markets for slaughter, a move that is expected to hit export and trade of meat and leather.
IMAGE: Youth Congress organised Beef Festival in front of Ernakulam BJP office in Kochi on Saturday. Photograph: PTI Photo
© Copyright 2019 PTI. All rights reserved. Republication or redistribution of PTI content, including by framing or similar means, is expressly prohibited without the prior written consent.