Describing the fire tragedy as "unimaginable", Prime Minister Narendra Modi on Sunday assured the Kerala government and its people all help in the hour of crisis as he visited the mishap site near here and a hospital to see the injured people.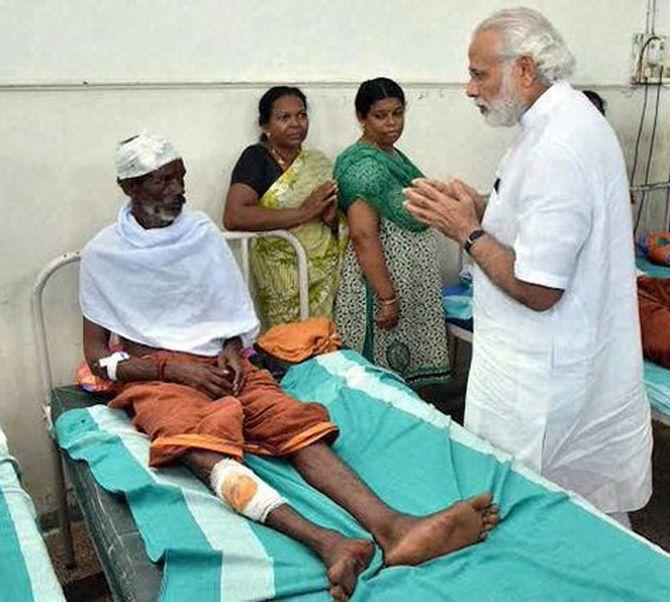 IMAGE:

Prime Minister Narendra Modi visits the district hospital to meet the victims of tragedy. Photograph: PTI
"This tragedy is very painful. The extent of the tragedy is unimaginable and such dreadful," he told reporters before concluding his brief visit during which he also held a meeting with Kerala Chief Minister Oomen Chandy.
He said the tragedy is such huge that it is difficult to express it in words as such a large number of people have been injured, with some being beheaded.
"This is an hour of crisis and the central government is ready to extend all help to Kerala government and the people of the state," Modi said.
He said he had told the chief minister that if he wanted any injured people to be taken to Mumbai or Delhi for specialised treatment, the central government will immediately make arrangements for the same.
He extended condolences to those who lost their kin and wished speedy recovery to the injured.
Earlier in the day, Prime Minister Narendra Modi arrived in Kollam on Sunday to take stock of the situation in the wake of the fire tragedy at PuttingalDeviTemple.
He first went to Thiruvananthapuram from where he took a navy helicopter.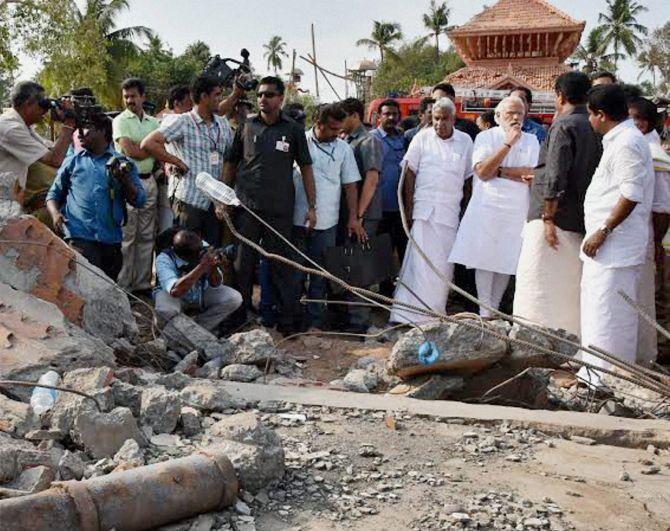 IMAGE:

Prime Minister Narendra Modi visits the site of tragedy in Kollam Paravoor Puttingal temple. Photograph: PTI
At Thiruvananthapuram airport, he was received by Governor Justice (retired) P Sathasivam and state Bharatiya Janata Party leaders, including O Rajagopal who gave him the latest update on the mishap.
"Fire at temple in Kollam is heart-rending and shocking beyond words. My thoughts are with families of the deceased and prayers with the injured," the prime minister said in a tweet in the morning.
"Spoke to CM Oommen Chandy about the fire at a temple in Kollam. Arranging for immediate shifting of those critically injured via helicopter," he tweeted in the morning.
The PMO said Modi was constantly monitoring the situation and was in touch with officials. He had directed that no protocol formalities be observed on his arrival in Kerala as focus should remain on relief and rescue operations in Kollam.
Modi said he had also asked Health Minister J P Nadda to immediately reach the site of the fire tragedy in Kollam.
Over 100 people were killed and over 300 injured in a major fire that broke out in the PuttingalDeviTemple complex early Sunday morning during a display of fireworks for which there was no permission from authorities.