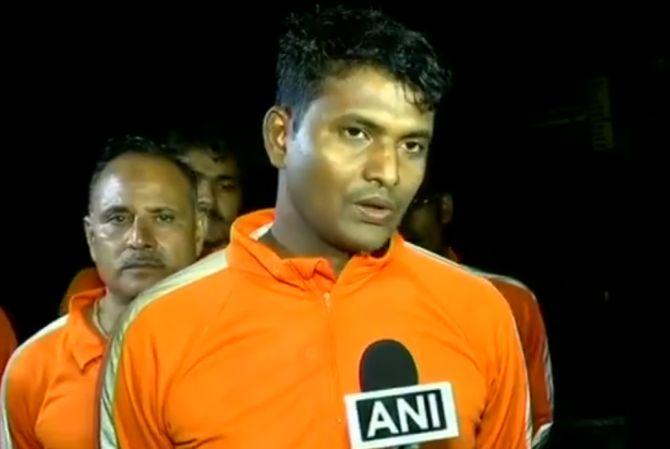 A National Disaster Response Force officer rescued a sick child by sprinting across a bridge moments before it got submerged in gushing flood waters in rain-ravaged Kerala, with an image of his daring act going viral on the social media.
The NDRF team member, later identified as Kanhaiya Kumar, saw a man with a child asking for help from the other side of the narrow Cheruthoni Bridge near the Idukki Dam in the district, which was opened last week after a gap of 26 years.
He responded in a flash, ran across, grabbed the child and rushed back, unmindful of his safety.
A photograph of Kumar snapped while scurrying across the bridge with the child two days ago, has gone viral on the social media with people showering praise on him.
"As the waters were rising, I saw a man waving asking for help with a young child from the other side of the bridge. I crossed the bridge, grabbed the girl child and sprinted back as soon as I could to the other side," he said later.
The NDRF also rescued a man, two women and three children who had got stranded in the Kabini river at Orapally village of Waynad district.
'Passionate concern for all needy. Be it humans or animals,' the NDRF tweeted posting pictures of its personnel rescuing some people and a dog.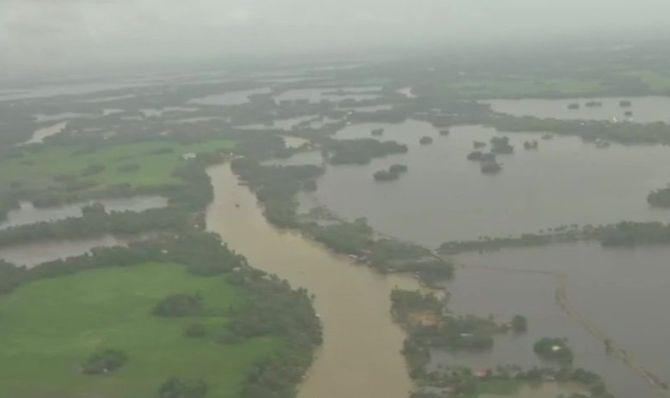 Around 14 NDRF teams, comprising 100 members, 10 columns of Army, besides personnel and helicopters from the Air Force and Navy are engaged in rescue and relief operations in different parts of the state.
Kerala has been hit by unprecedented floods with almost all the 40-odd rivers in spate following heavy rains since last week.
As the Cheruthoni bridge was the lifeline of the local people on the two banks of the Cheruthoni River, they have been put to great difficulty now as they have to take a detour of at least 15 km to reach the other side.
Meanwhile, a Defence release said the Army personnel restored connectivity to Virinjapara under Mankulam panchayat near Munnar in the district after a concrete bridge was washed away in floods, bringing relief to 800 families of the area.
Army personel from Pangode military station at Thiruvananthapuram and the Madras regiment were also involved in the reconstruction of a road damaged at Kochukodakallu- Machiplavu area in Idukki, it said.
They also distributed food and medicines at a camp at Adimali in Idukki, the release added.
After a brief lull, rains started lashing several parts of Kerala since sunday morning, posing problems to the relief operations undertaken by multiple agencies in the flood and landslides hit regions.
However, the water level in the Idukki and Idamalayar reservoirs reduced, bringing some relief, with the authorities saying there was no need for any panic for people living downstream, officials said.
There were no fresh casualties reported since Saturday and the toll in the rain-related incidents since the current monsoon fury from August 8 stood at 37, they said.
Union Home Minister Rajnath Singh undertook an aerial survey of some flood-hit areas and held discussions with Chief Minister Pinarayi Vijayan, camping in Kochi, on Sunday.
More than 60,000 people have been accommodated in relief camps set up in different areas, including in Wayand where over 14,000 people had been sheltered.
Mananthavady and Vythiri in the hilly Wayanad district have been totally cut-off, with roads washed away and houses marooned by water.
Water level in the Idukki dam, the biggest arch dam in Asia which was opened after a gap of 26 years, marginally declined to 2399.16 ft at 10 am today, after hovering close to its maximum of 2,403 feet in the past few days, officials said.
There was a brief respite from the rains on Saturday in several parts of the state, but the fresh heavy downpour was making relief works difficult now, authorities said.
The National Disaster Management Authority had on Saturday warned that heavy to very heavy rains were expected in 16 states, including Kerala, till Monday.
The weather department has issued a 'Red alert',asking people to be cautious as there was a possibility of heavy to very heavy rainfall in most places in Idukki, Wayanad, Kannur, Ernakulam, Palakkad and Malappuram districts.
Around 1,500 houses were damaged partially and 101 have been destroyed completely in rain fury in the state during the last few days, according to the disaster control room officials Thiruvanthapuram.
'Heading to Kerala to take stock of the situation in the state. Shall conduct a survey of the flood affected areas and also visit the relief camp sites', Rajnath Singh tweeted.
The chief minister on Saturday undertook an aerial survey of rain ravaged areas of Idukki and Wayanad and said Kerala was in the midst of an unprecedented flood havoc and that the calamity has caused 'immeasurable misery and devastation'.
DMK announces Rs 1 cr flood relief to Kerala government
Dravida Munnetra Kazhagam Working President M K Stalin on Sunday announced Rs one crore flood relief to the Kerala government, on behalf of his party and expressed his condolences to the bereaved families.
A DMK statement said, 'Unprecedented floods in Kerala have affected many people and has caused damage to properties worth crores. The party's working president M K Stalin has decided to contribute Rs 1 crore to Kerala Chief Minister's Relief Fund.'
Tamil Nadu Chief Minister Edappadi K Palaniswami had on August 9 announced a contribution of Rs 5 crore to rain ravaged Kerala as a mark of support to the neighbouring state.
Kerala Chief Minister Pinarayi Vijayan had on Saturday announced Rs 10 lakh as compensation to those who lost their houses and land in the rain, and Rs 4 lakh to those who lost a member of their family.
Dog saves life of master, family from landslip
A pet dog turned out to be the saviour of its master and his family when the animal woke them up at 3 am, minutes before their house collapsed in a landslip at a hamlet in Idukki district of Kerala.
As 'Rocky' yelped and made disturbing sounds, Mohanan and his wife woke up and tried to find out what was wrong.
They soon heard a thunderous noise and ran out of their house, only to find to their horror their dwelling unit collapsing at picturesque Keerithode on Thursday, Mohanan told a television channel.