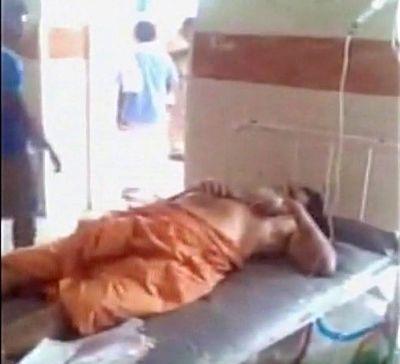 A 23-year-old law student chopped off the genitals of a man when he allegedly tried to rape her at her home in Pettah area of Kerala's capital Thiruvananthapuram, police said on Saturday.
Reacting to the news, Kerala Chief Minister Pinarayi Vijayan hailed the woman's act as "brave" and "courageous".
"It was a courageous step, no doubt about it," he told reporters promising all support to the woman.
According to a complaint filed by the woman, the 54-year-old man had been harassing her for many years.
When the man tried to abuse her on Friday night at her house in Pettah, she protested and chopped off his genitals with a knife, police said.
State Women's Commission member Prameela Devi expressed shock over the incident and said the woman was forced to take the extreme step after suffering years of "harassment, pain and humiliation."
The incident came to light after the suspect, identified as Gangeshananda Theerthapada alias Hariswami, who claimed to be an inmate of Panmana Ashram in Kollam, was admitted to the government medical college hospital with critical injuries in the wee hours, police said.
He underwent an emergency surgery and his condition is stable now, they said.
According to the woman, the suspect had been known to her family for the past few years and used to frequent her house to perform pujas ensuring relief to her paralysed and bed-ridden father.
A case has been registered against the man under various sections of the Protection of Children from Sexual Offences Act and IPC 376 (punishment for rape).
No case has been registered against the woman so far, police added.
However, the man reportedly told police that he had chopped off his genitals himself.
The management of Panmana Ashram, associated with social reformer Chattambi Swamy, said Gangeshananda had come to the ashram as a 'brahmachari' (celibate) 15 years ago, but did not complete his course and had left mid way.
IMAGE: The alleged rapist admitted to the hospital in Thiruvananthapuram. Photograph: ANI